Maximize Support Efficiency with Ticketing Module Tailored for ISPs
Our commitment to enhancing and optimizing the Splynx Ticketing platform, which we use to support our clients, is a key reason behind the high level of service we offer. This dedication is a significant factor that attracts ISPs to work with us.
The ticketing platform is tailored to telecoms-specific needs, which means that you no longer need such platforms as Zendesk, Helpdesk, or any other desk software, you can do much more than just reply to emails. Assign the tickets to the right person, prioritize the work, schedule the tasks for the technicians, and check all statistics, agent or performance, and much more within the Splynx Ticketing platform. Moreover, in our latest 4.1 release, we brought it to the next level!
To better understand both sides, let's split our ticketing system into two parts: one for administrators and one for the customers using it.
Ticketing for ISPs
Dashboard
The ticketing dashboard represents progressive and interactive data statistics in the following sections:
Number & status of all tickets in the system;
General and per-agent statistics with date range selection;
Live log of recent activities;
A quick reference to the tickets that were assigned to the administrator currently logged into the system;
Statistics of assigned tickets between administrators in the system.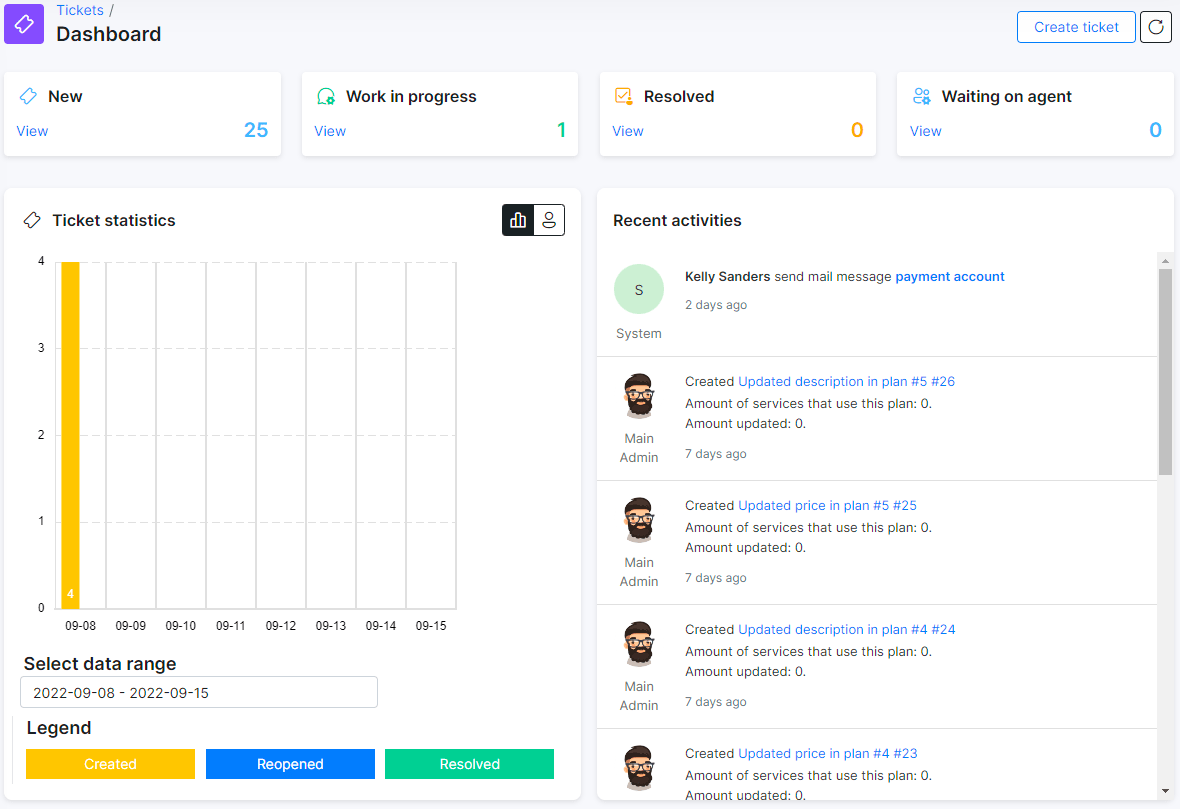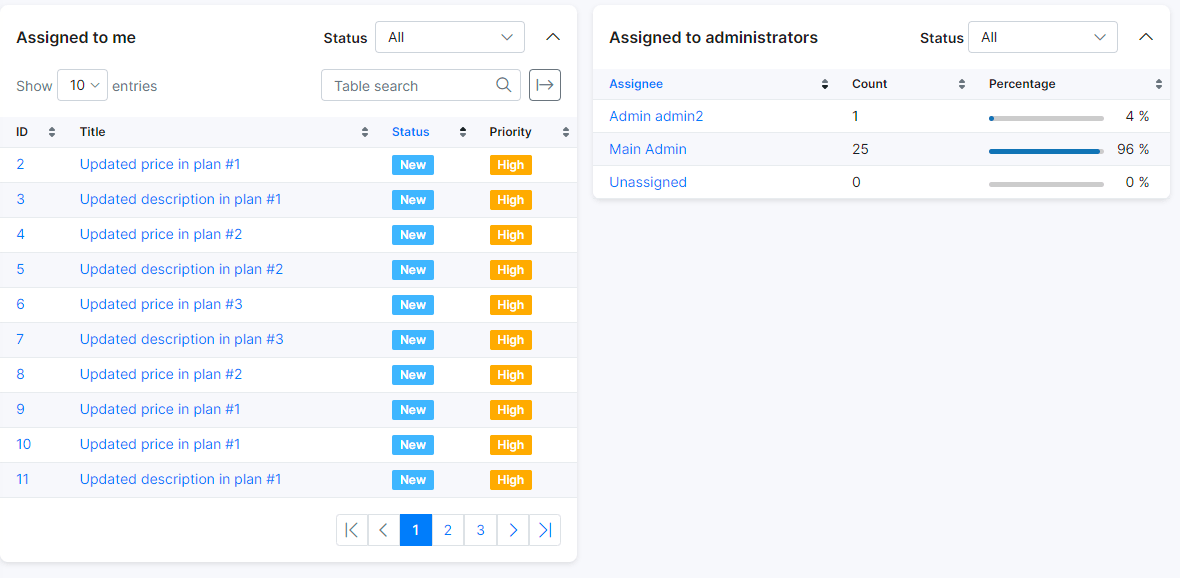 You can customize the layout of ticket status cards for more efficient tracking and management.

Customers
Your existing or potential clients can create a ticket in three ways:
1. By sending a query to your incoming email, like support@yourdomain.com, the ticket will be created automatically in the system and assigned to the correct customer or lead, in case they are present in your database. Splynx allows you to set up several incoming emails for different purposes, like sales, support, installations, etc.
Here's how to configure inboxes (incoming email), so tickets will always be assigned to the correct team or person depending on the purpose.
2. By creating a ticket from the Customer Portal: Tickets → Create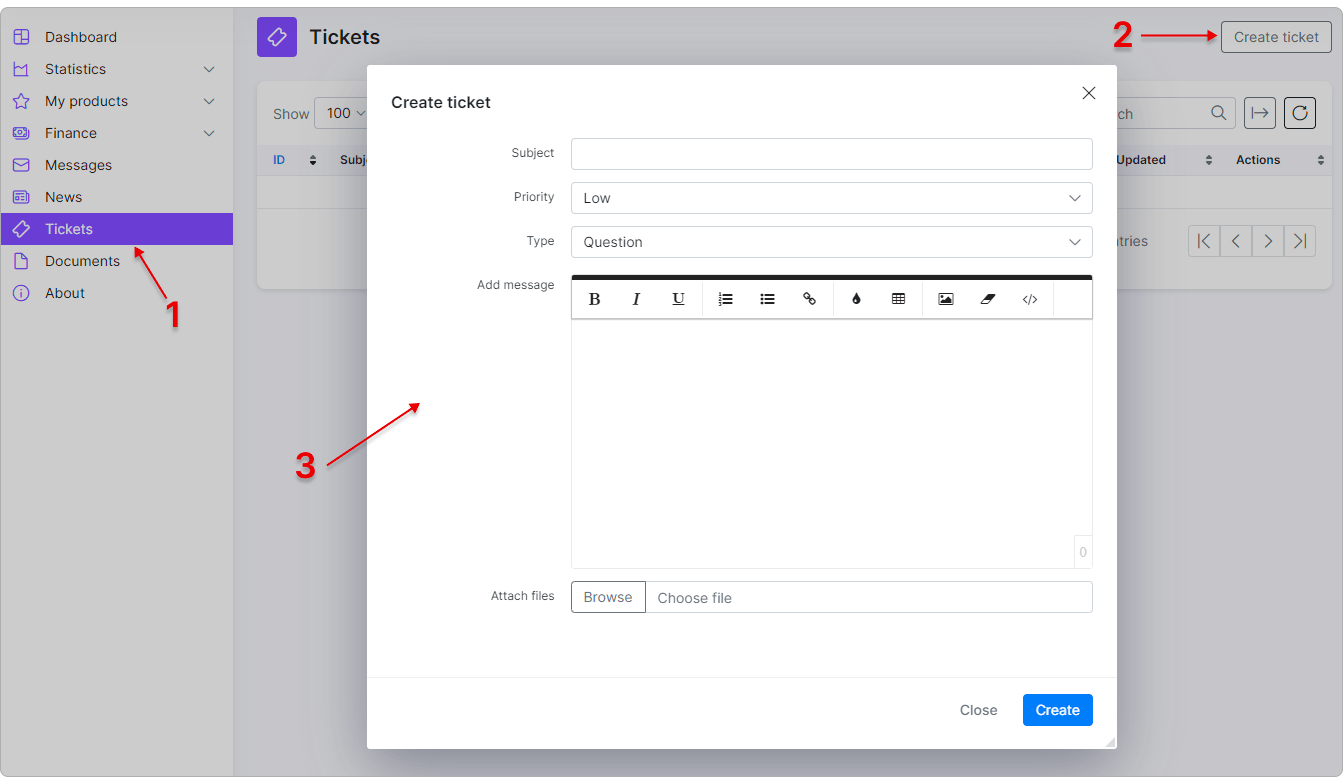 3. By creating a ticket from the Splynx mobile self-service app.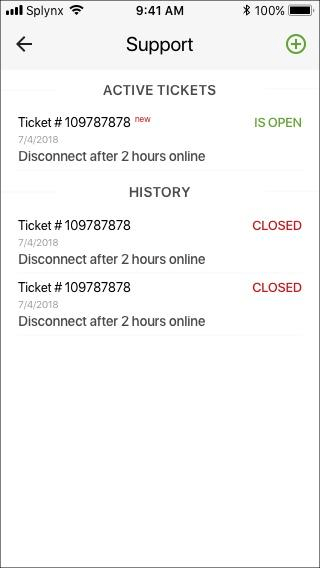 Administrators
The ticketing platform is directly connected to the customer's profile and CRM, so every ticket is assigned to the corresponding lead or customer.
Administrators have three options for making tickets:
1. Go to Tickets → Dashboard and select the "Create ticket" button at the upper-right corner of the page.

2. From a customer's or lead's profile, click on the "Tickets" button and choose "Create" from the drop-down menu.

3. In the list of new and open tickets at Tickets → List, find the "Create ticket" button at the top right of the page.

Ticket Working Area
The working area is divided into 3 parts:
ticket properties;
action buttons;
messages area.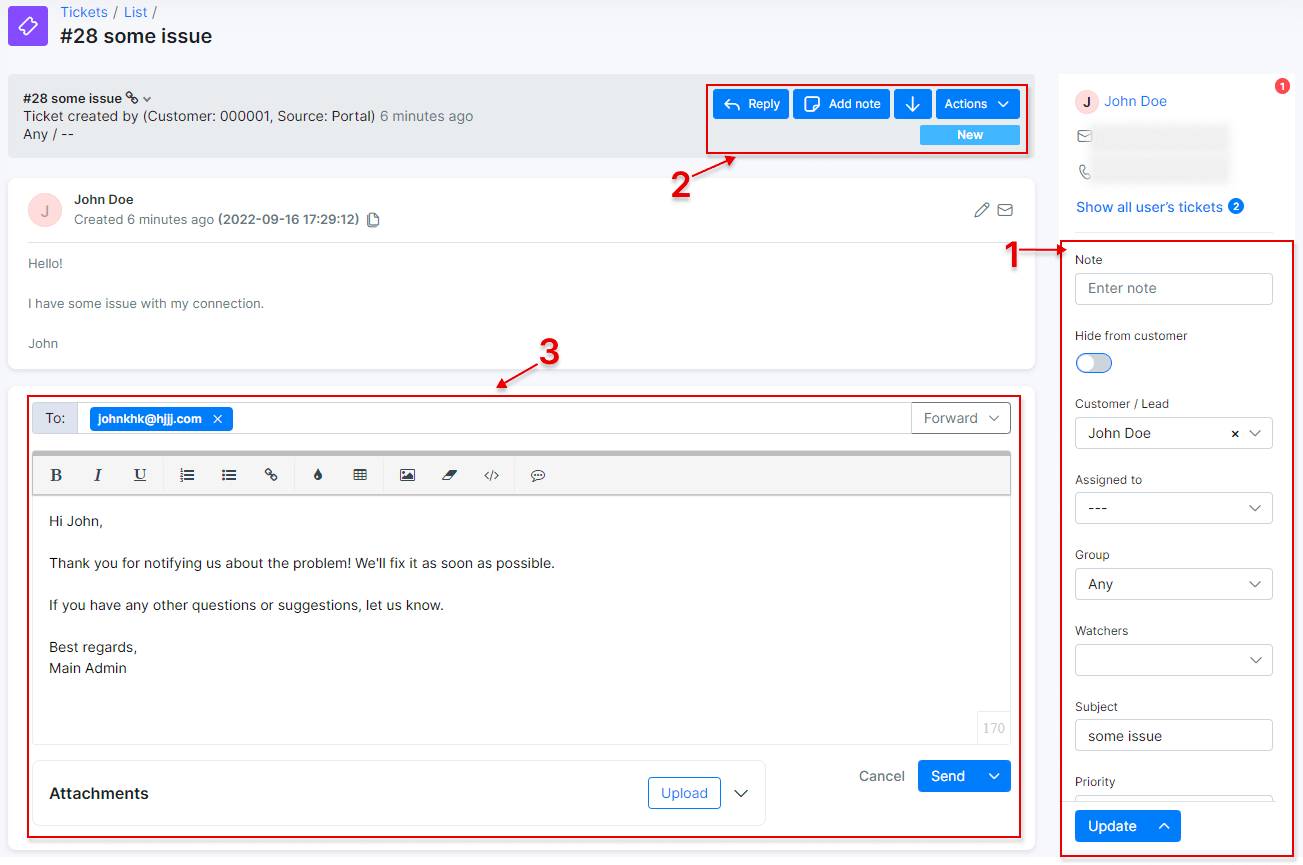 In the properties section, we can assign the ticket to the right person, change its status, prioritize the work, assign it to a specific group, and set the type. We also observe the Customer's information like Name, Email, Phone number, and list of recent tickets.
The action buttons allow us to add a note that is hidden from the customer, reply or forward the answer, check all ticket activities, and schedule the task for an engineer. This task will be immediately added to the engineer's calendar and also displayed on the customer's / lead's profile. Check out more about scheduling modules in Splynx.
Automated ticketing
It has been proven by many ISPs that Splynx advanced ticketing increases support performance drastically.
Technicians often spend hours sending similar responses to various customers facing the same issues. Take advantage of Canned responses – pre-made replies that save time by addressing frequently asked questions.
Ticket automation brings convenience to administrators dealing with many routine tasks that require plenty of time. For example, handling tickets without customer responses, so they automatically close and send an email notification with a canned response, and so on.
Configure Ticket Statuses, Types, and Groups to describe the nature of tickets and assign them to the right administrators.
Your support team works hard to swiftly address customer concerns. Yet, at times, the volume of support tickets and calls can overwhelm them. Splynx integration with 3CX streamlines this process by connecting calls to existing tickets, granting your team more time and making problem-solving more efficient. Learn more about linking a call to an existing ticket in our article.
Configuration of Support Settings (Config → Support) allows you to customize the platform exactly for your specific needs, configure ticket assignments, your inboxes, all notifications, ticket automation, canned responses, statuses, groups, and much more!
Email & SMS notifications for tickets
Administrators can receive email & SMS notifications when a new ticket is created or updated in any way. You also have the flexibility to customize them according to your specific preferences.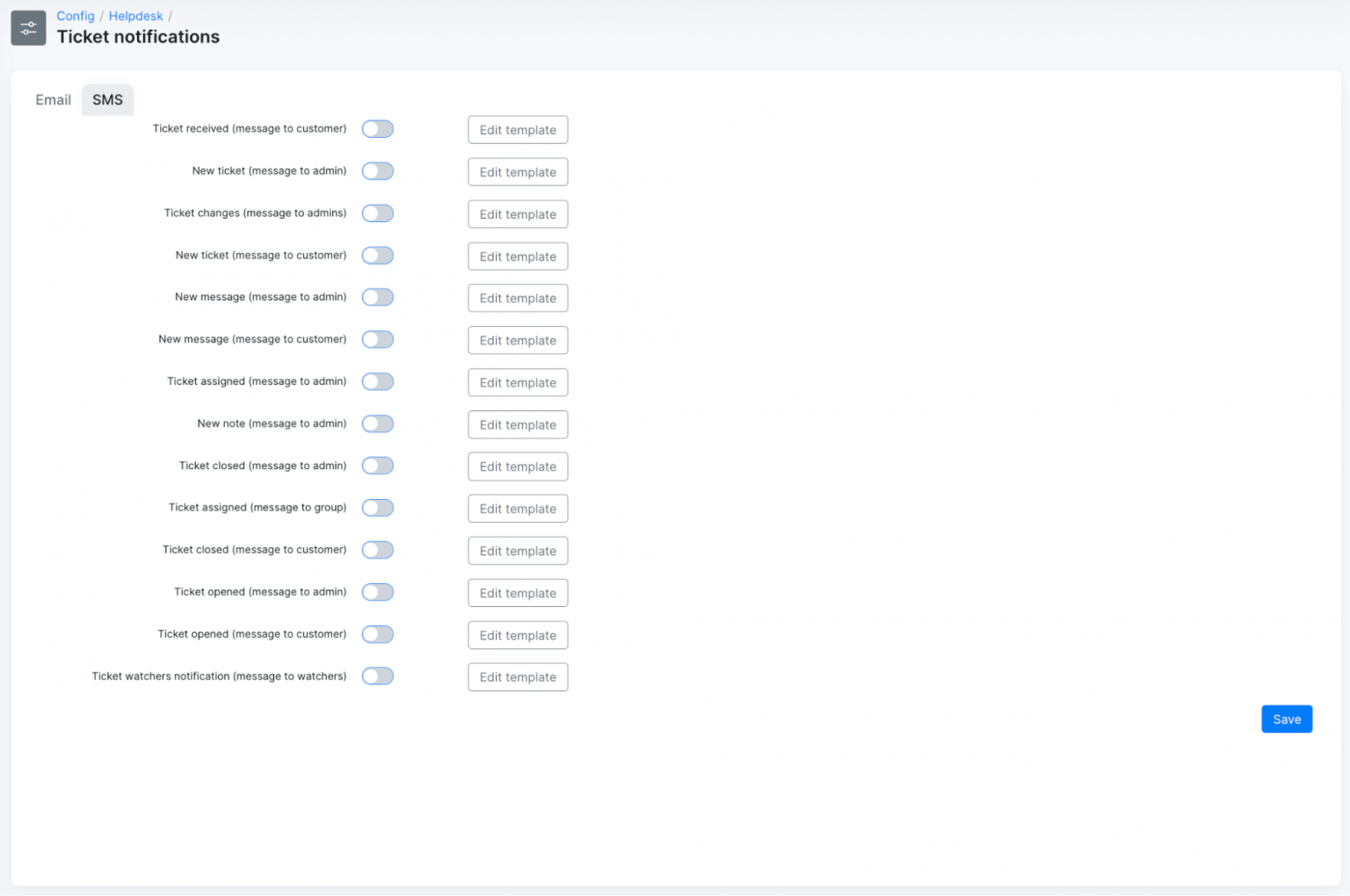 Ticket feedback & reports
Since we use the Splynx Ticketing platform for supporting our own clients, we continuously work on improving and optimizing it. That's why we provide the level of support that we provide, and this is one of the main factors why our customers want to work with us.
Thus, we have added various reports and useful add-ons that will increase the level of customer satisfaction in your company.

All reports are accessible from Administration → Reports → Ticket reports
SLA report – This report helps to track and understand the timing of the agent's replies. We can see the number of replies that your agents send to customers and the time range, this statistic will help you to track and improve the response time of your support department.
Agent performance – This is an overall report for all agents where you can track how many tickets were assigned, how many tickets were reopened/resolved, see the number of all responses, and observe the statistics of all averages.
Performance distribution report – This report allows you to track and analyze the response and ticket resolution time.
We understand that providing exceptional customer service is the cornerstone of our client's success. In version 4.1, we've introduced the Ticket Feedback add-on—a valuable tool for assessing customer satisfaction. You can easily configure it and incorporate survey buttons into email notification templates or canned responses. This feature is essential for monitoring and enhancing customer satisfaction levels while identifying areas for improvement.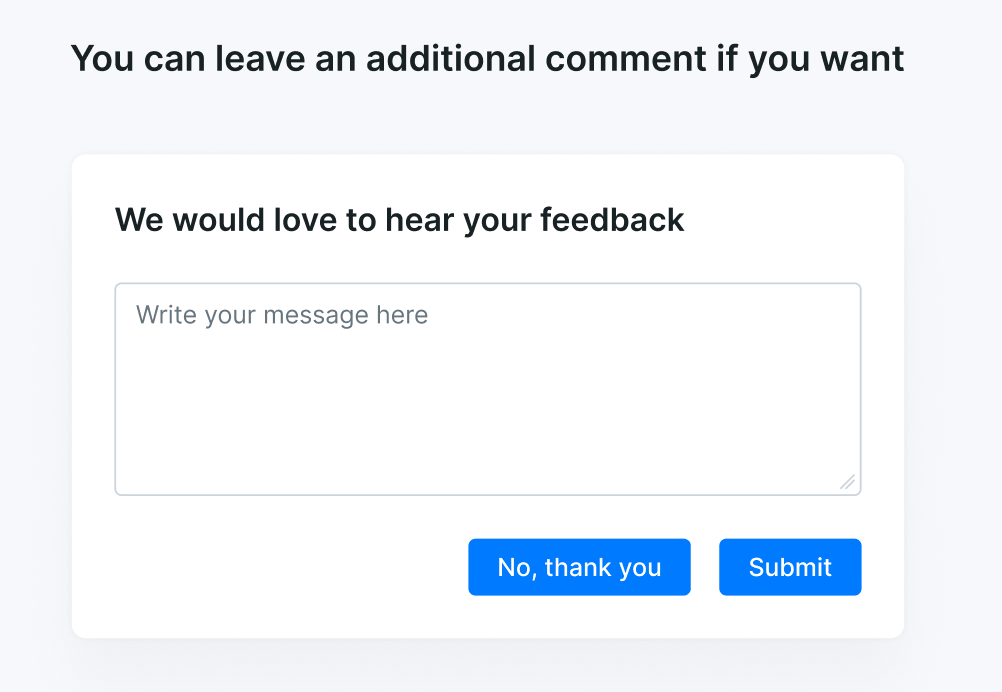 Combined with the Splynx AI add-on, which evaluates the quality of support tickets based on content, timing, and feedback, you'll be able to significantly reduce the time you spend on repetitive and detail-oriented tasks.
This suite of tools empowers you to:
1. Consistently and efficiently monitor and analyze the quality of your customer support service.
2. Identify potential bottlenecks and areas for improvement within your support processes.
3. Boost Customer Satisfaction Rates, fostering long-term loyalty and trust.
4. Capture testimonials from delighted customers who leave positive feedback.
Don't just take our word for it
Check out some feedback from our clients about our support & ticketing platform!
No other system understands ticketing and support processes. Our team has loved working in the ticketing system of Splynx.
Read more in their success story: How Splynx helped American ISP switch from multiple solutions to one unified system
Improvement of our ticketing system, it is much easier to track and more useful for both the customer and our external customer support staff. We have RADIUS authentication of all users and that functionality is built in rather than deploying add-on services to our servers. Almost a 50% reduction in recurring costs.
Read more in their success story: How local WISP from Colorado streamlined all business workflows while saving 50% on software costs
"Workflow is much more efficient now, support people have immediate access to all client details and support tickets are logged properly. Ease of everything in one platform, billing, support, etc.
"We needed our core customer platform to work reliably. Splynx support is prompt, and usually goes way beyond what we'd expect. During a period of time when we ran our server on local hardware – with frequent power issues – Splynx support stepped in and kept us going.