Improving Customer Communication with 3CX and Splynx CRM
As ISPs strive to provide the best possible customer experience, streamlined communication between their teams and clients is essential. This is where the integration of 3CX with Splynx CRM can make a significant difference. By making calls directly from Splynx, storing call recordings, linking calls to existing tickets, and accessing all customer information, the integration improves the overall communication process, making it faster, more efficient, and personalized.
But what about the real impact of this integration? We wanted to find out how our clients who are actively using 3CX functionality in their workflow have benefited from it. To gather their feedback, we conducted a survey, and the results were astounding. In this article, we will not only discuss the features and benefits of 3CX integration with Splynx CRM but also share actual results and feedback from our clients.
1. Make calls directly from Splynx
If you want to call your existing or potential customer, you can do it without leaving the customer's profile in Splynx, making the process quicker. To make a phone call directly from Splynx you need to have a 3CX web or desktop application opened. When you press the phone button, next to the customer/lead's phone number, you'll see a 3CX dialer with the customer's phone number. There can be more than one phone number and all of them can be found in the customer's profile.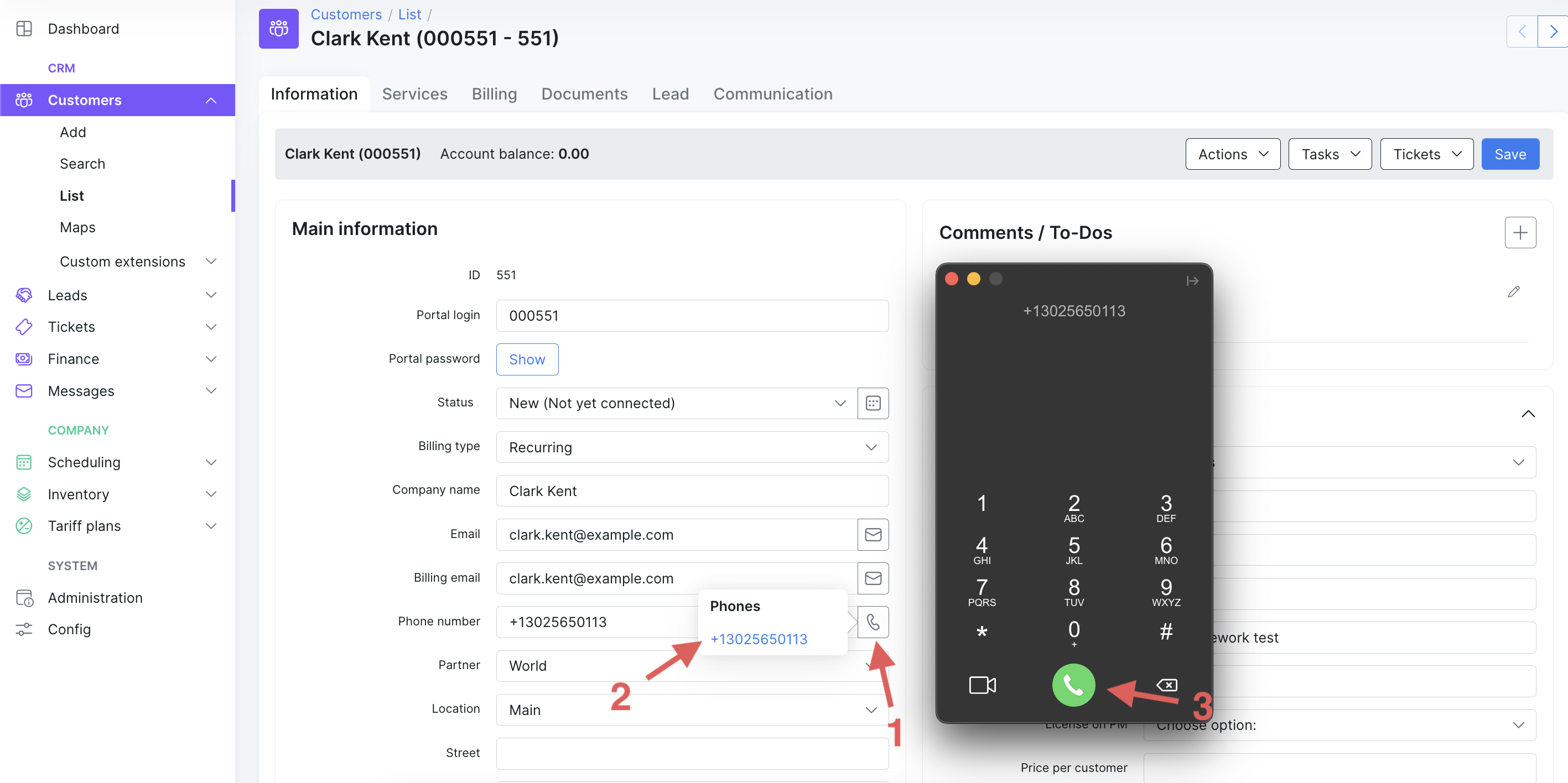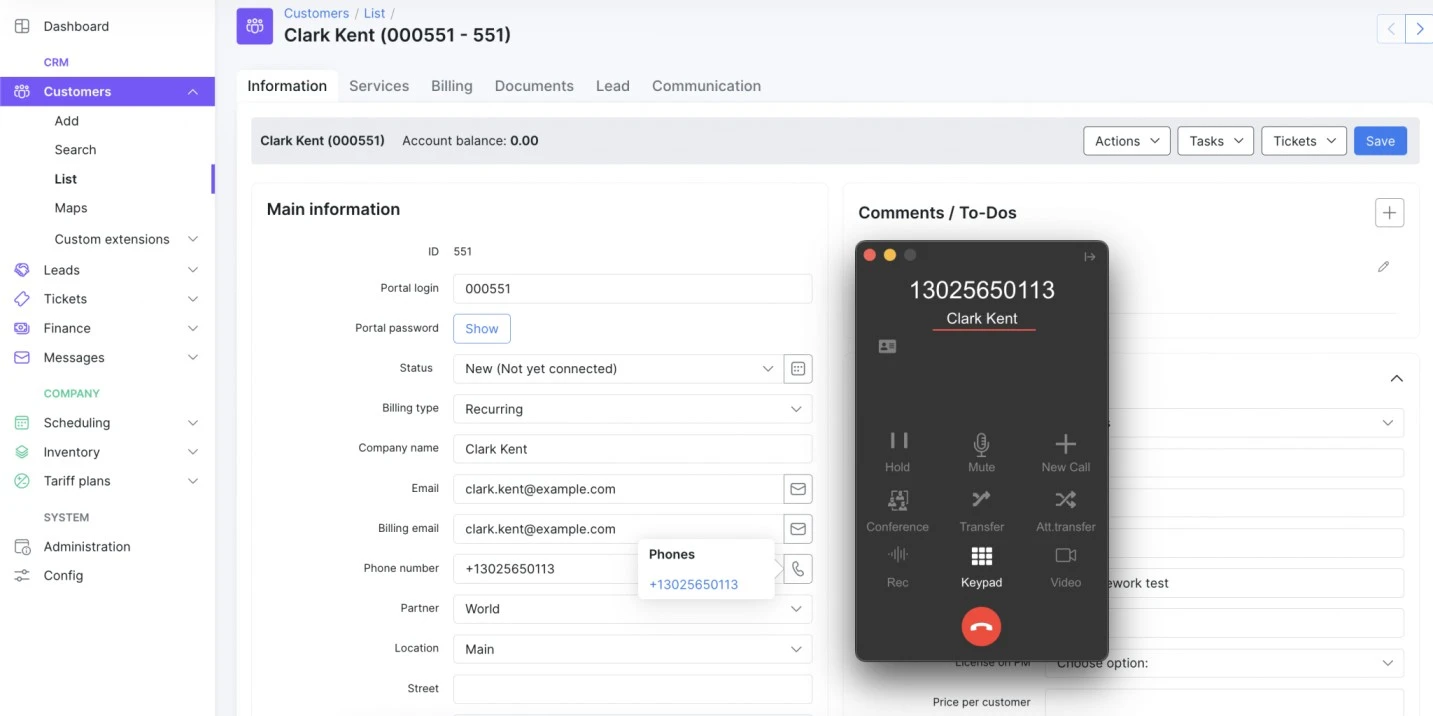 Bring your personalization to the next level
By utilizing this integration your sales or support team will have access to all customer information at their fingertip before they pick up the call. Splynx automatically opens the corresponding customer profile when your customer calls in.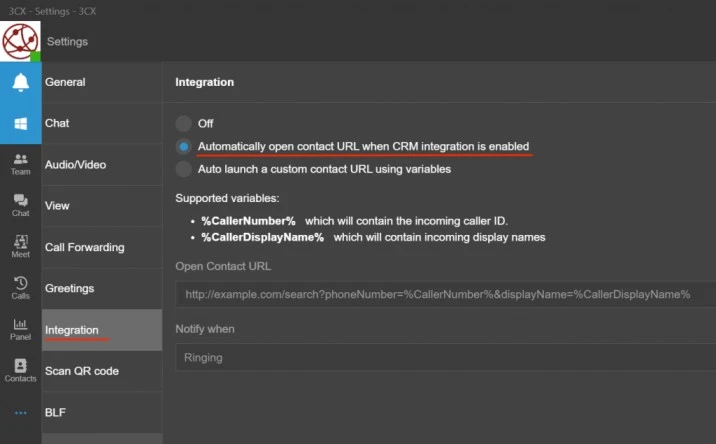 Our clients have discovered that this feature helps them to deliver a personalized experience to their users as most customers are impressed when you instantly greet them with their name.
2. Store all calls in CRM
All incoming and outgoing calls are stored in the "Communication" tab of the customer or lead profile, allowing you to track all interactions with a customer. When a sales or support representative calls a customer, they can quickly review the details of previous conversations and notes to understand the customer's needs, preferences, and pain points. Armed with this information, representatives can tailor their approach and offer personalized solutions to the customer's problems.

3. Listen to call recordings
Miscommunication can sometimes happen during phone conversations, and it is crucial to be able to address any issues that arise. With 3CX integration, all call recordings are stored in the "Communication" tab, allowing you to listen to any call at any time. This feature ensures that you can always come back and check your conversation with a customer to clear up all the details.
You can also leave a call description next to a call recording to give a quick recap of the client's needs or leave a note for your team about the status. It's handy to organize the information around your clients more accurately.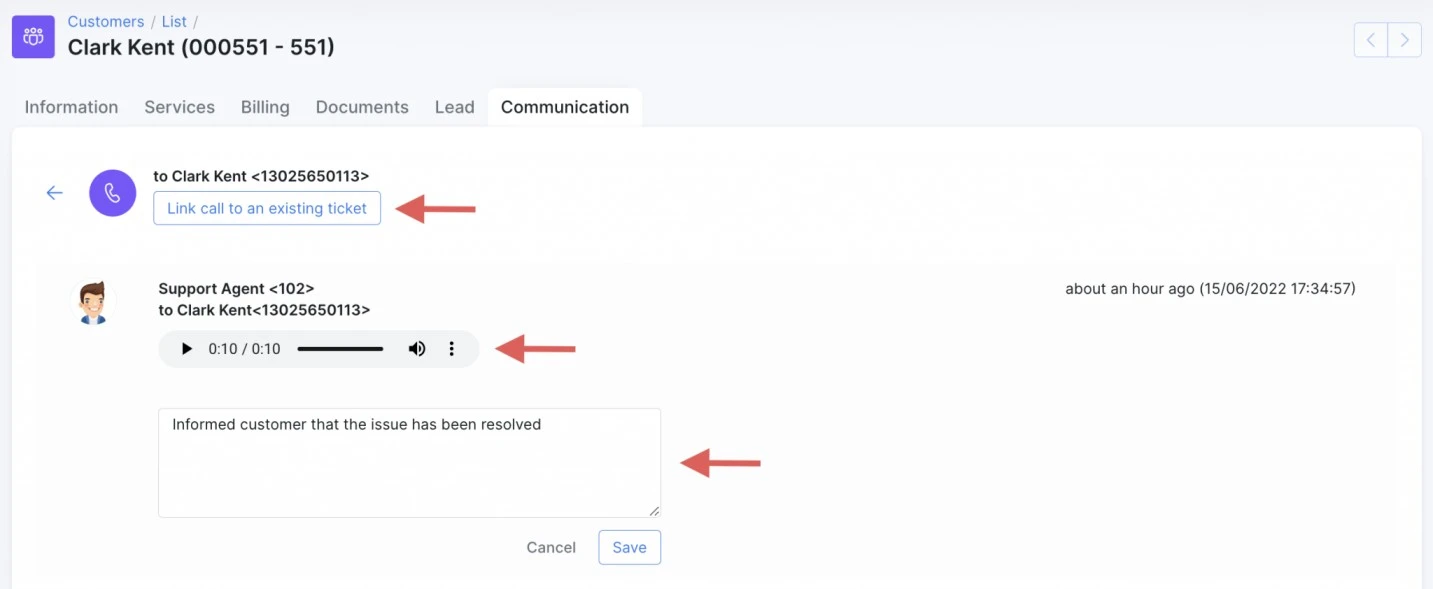 Use case
Splynx customers have reported that call recording has been incredibly useful in helping them remember details of their previous conversations with customers. This feature is useful to refresh the memory about important details and gain a better understanding of the customer's needs.
Our clients report that the internal interactions became more efficient as they can reference calls for clients between agents eliminating unnecessary discussions or inquiries between agents.
Additionally, call recordings can also be used to monitor the performance of customer service representatives and identify areas where additional training may be necessary.
4. Link call to an existing ticket
Your support agents work tirelessly to ensure that any issues your customers face are resolved as quickly and efficiently as possible. However, there are times when they struggle to keep up with the number of support tickets and calls that come in each day. The 3CX integration allows you to link calls to existing tickets, making it easier for your support team to solve customers' problems. This saves them significant time, enabling them to handle cases easier.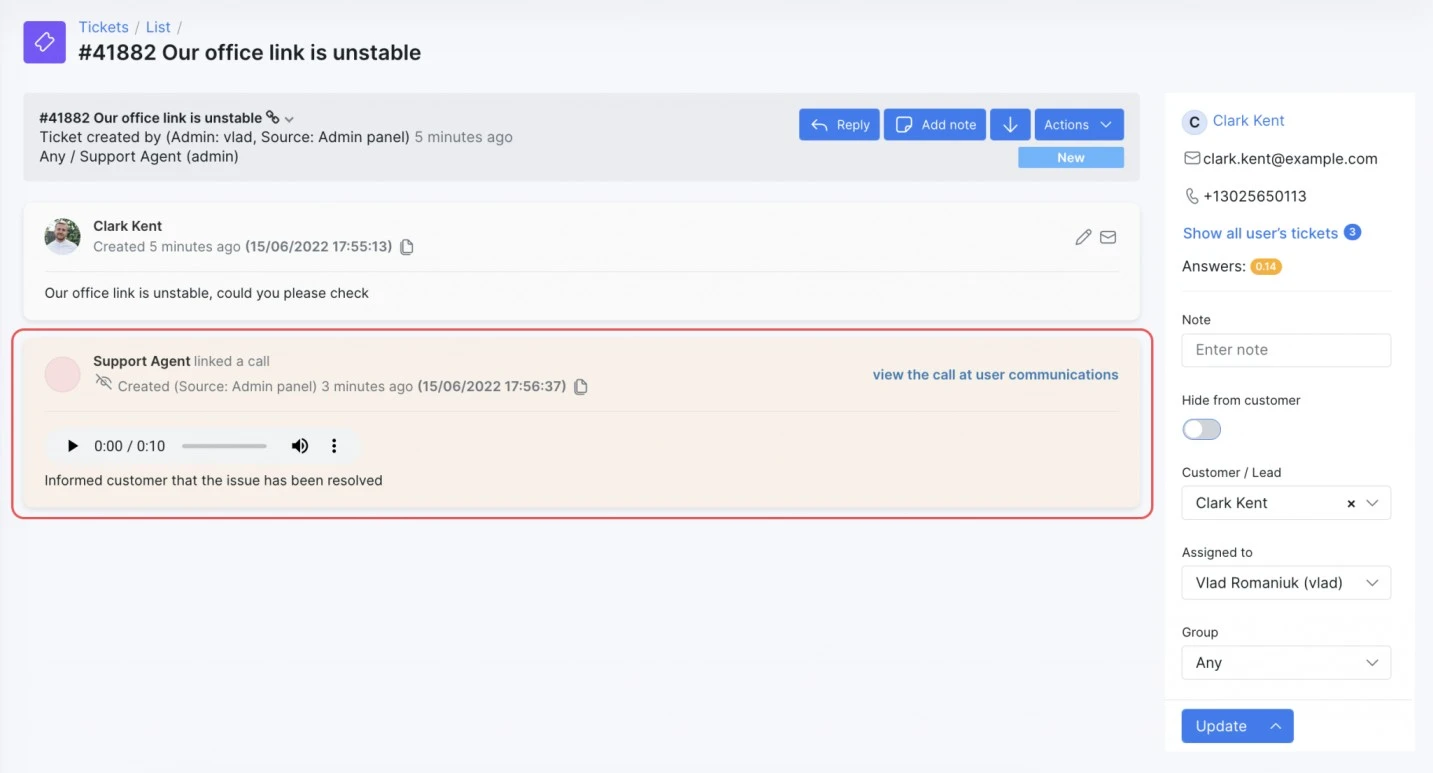 Example
When a customer calls with an issue, you can link the call to an existing ticket, providing your support team with a detailed problem description.
To link a call to an existing ticket, simply open the call in the "Communication" tab and click on the "Link call to an existing ticket" button. This will open a new window that displays all the tickets associated with the customer. From there, you can select the ticket that corresponds to the call.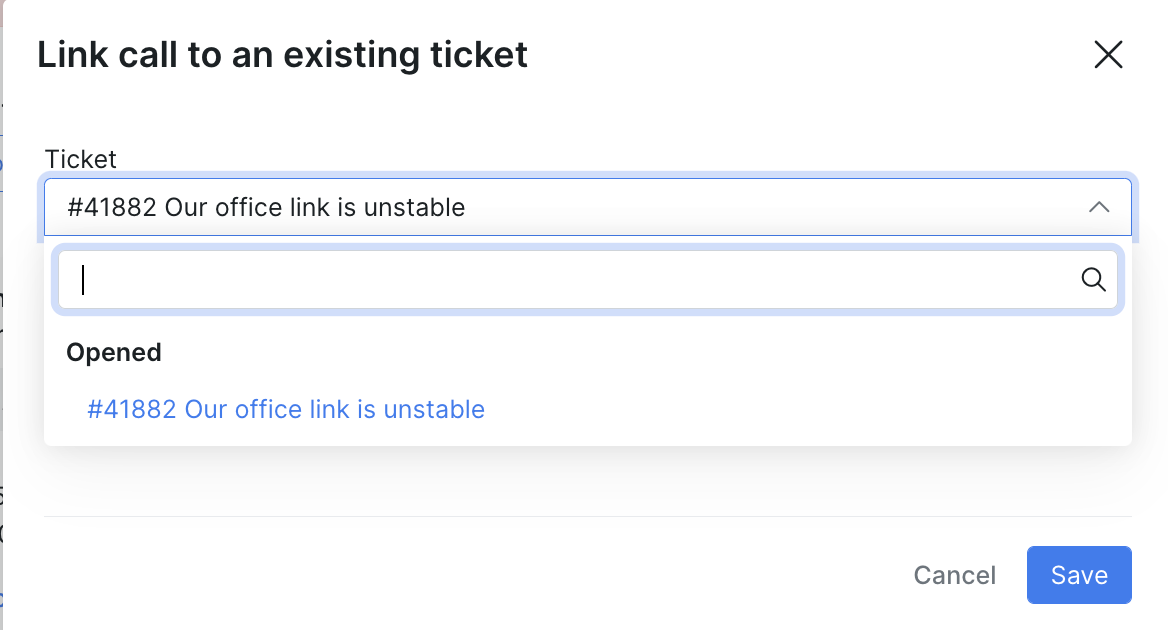 In a nutshell
The 3CX integration with Splynx can significantly improve your communication with customers and leads, making your support and sales teams more efficient. By being able to make calls directly from Splynx, store call recordings, and link calls to existing tickets, you can streamline your communication and provide your customers with the best possible experience.
If you want to learn more about 3CX configuration, go to the configuration guide:
1. 3CX add-on