Splynx TR-069 ACS
We help ISPs solve issues with manual provisioning and remote device management in an effortless and cost-effective way.
Get free demo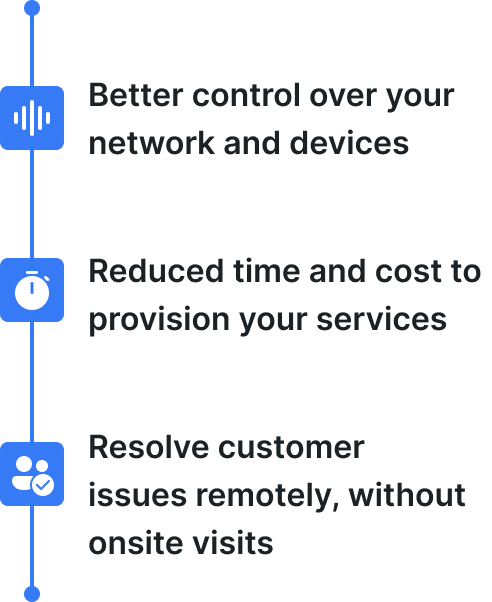 Splynx ACS Overview
Watch this video to learn how to:
Connect device to the ACS
Troubleshoot CPEs
Change SSID & Wi-Fi password - from admin and customer portal
Upgrade firmware
Provision devices
Get started
Key features
Device auto-provisioning
Our ACS (TR-069) server can automatically configure devices based on your own provisioning flow.
Connected with Intentory
Auto-configuration of new devices
Consistency across the network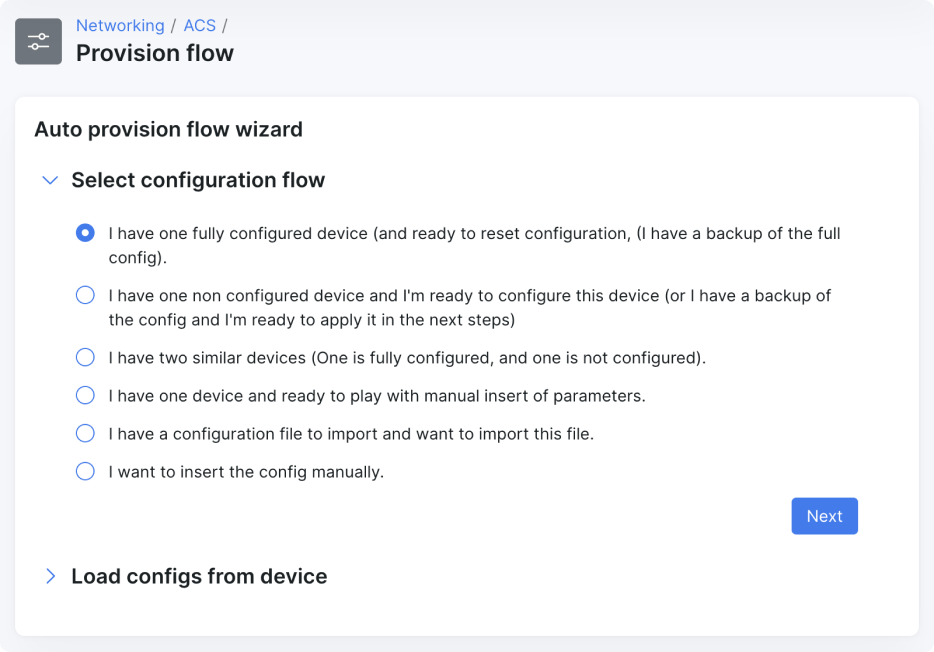 Remote device management
Splynx ACS server allows you to remotely manage devices from a single place, reducing the need for on-site technicians.
Reboot the router, change SSID or password
Allow customers to do the same from their Portal
Quickly respond to customer issues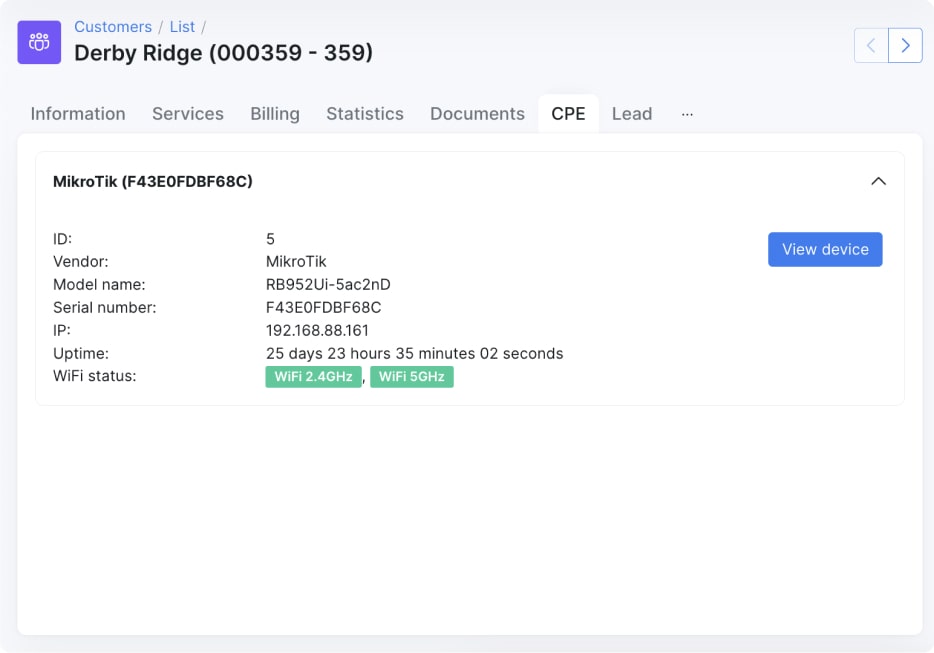 Mass management and upgrades
Perform desired actions with multiple devices at once, saving you time and ensuring consistency.
Firmware upgrades
Mass provisioning
Scalability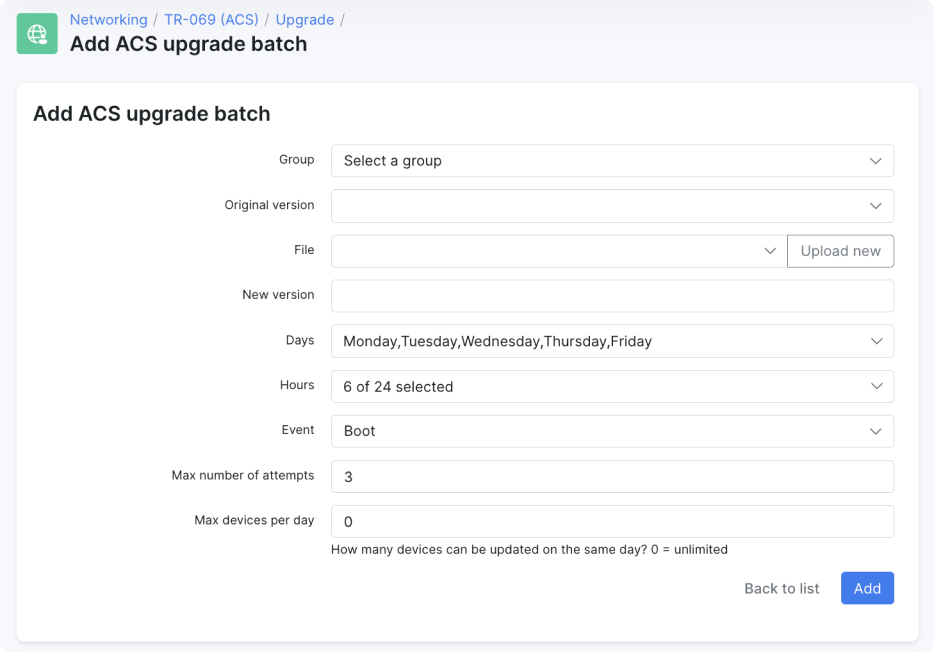 Monitoring and device diagnostics
Splynx ACS allows you to monitor devices in real-time to proactively identify and resolve issues on the spot.
Check download/upload traffic
Test the device with ping, traceroute, packets graph
Built in Wi-Fi Analyser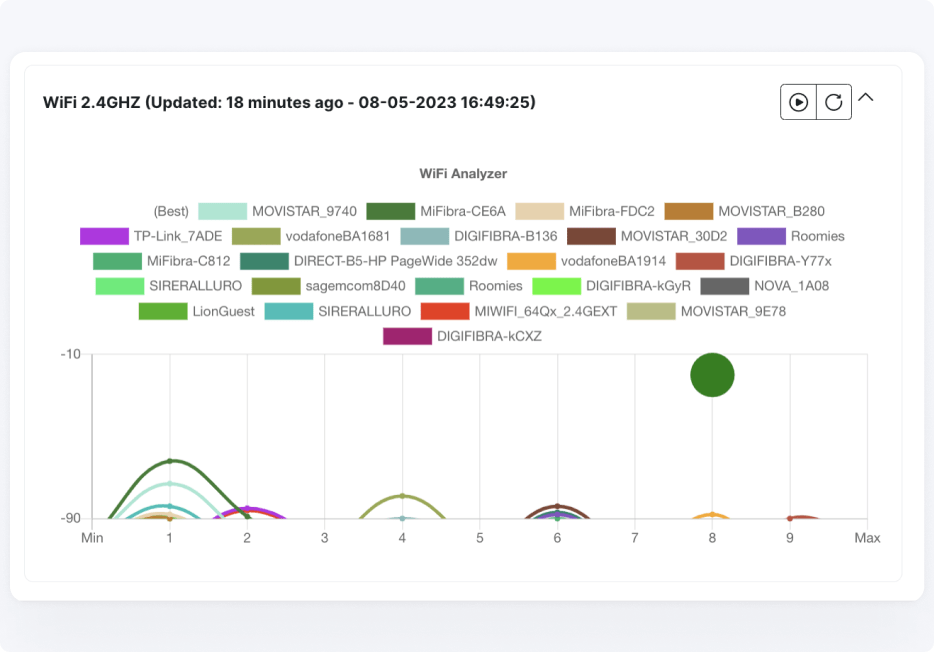 Get started
Pricing
Splynx ACS licensing is subscription-based and always calculated in intervals of 1000 devices with an entry level license of 0-1000 CPE devices.
ACS (TR-069) devices count and price
Devices count Price
0-1000 devices 100 USD / Month
2000 devices 200 USD / Month
3000 devices 300 USD / Month
4000 devices 400 USD / Month
5000 devices 500 USD / Month
10000 devices 1000 USD / Month
FAQs
Why is Splynx ACS licensed separately?
The reason why Splynx ACS is licensed separately is that it requires continuous maintenance, development, and support to ensure that it supports various types of CPEs. With each new release or a new CPE model being introduced to the market, our developers have to update and test the module to ensure that it works flawlessly. This requires a significant amount of time and resources.
Why was the Splynx ACS licensing changed?

From v4.1 we have decided to drastically reduce our mid-high-volume pricing compared to our previous version's policy.

The reason for changing the way our ACS is priced is due to the feedback we received from our medium-large enterprise customers who are the typical customers who are making use of the ACS capabilities.

Previously we were increasing the regular Splynx license user count for the use of ACS device at a fixed rate $0.5/per device compared to now charging 100$ per 1000 devices ($0.1/ device) is a considerable reduction in costs associated with using this feature.

Here is an example to compare the pricing:

Old pricing
500 ACS devices = $250/month
2000 ACS devices = $1000/month
New pricing
500 ACS devices = $100/month
2000 ACS devices = $200/month
Can I use GenieACS separately without Splynx?
Yes, as it is an open-source solution, you can definitely use GenieACS as a standalone system with its default interface and capabilities. However in this case it won't be connected with Splynx database, networking module and interface.
Which devices are supported by Splynx ACS?
Splynx ACS is a front-end extension connected to GenieACS - TR-069 remote management solution with advanced device provisioning capabilities. It can work with any device that supports the TR-069 protocol. The server auto-detects the device's parameter tree making no assumptions about the device's data model.
Do you provide a free trial of Splynx ACS?
Yes, as all other features/modules ACS is available during the Splynx trial period. In case you are existing customer and you have never used ACS before, we provide 30-day free trial for ACS module with a possibility to add up to 100 devices.
How to activate Splynx ACS?
To enable ACS in Splynx, navigate to Config → Integrations → Main modules → Enable the toggle for TR-069 (ACS) under Networking → click Save. For more information check out our documentation guide.
Is Splynx ACS secure?
Splynx ACS itself supports secure communication protocols such as HTTPS and SSL, and it also includes features like two-factor authentication and user permissions.

HTTP connection will work quicker but data sent/received by the CPE device will not encrypted. HTTPS data is encrypted, but it will work slower and some devices may fail to connect due to being unable to check the validity of your SSL certificate.

For CWMP connections established over secure VPN tunnel/private network its best to use HTTP protocol and HTTPS when data is sent over the Internet.
Is it possible to provision the device after it's been reset?
For a device to be provisioned after it's being reset you need to ensure two things:
Device should be able to establish a network connection to the ACS server
Device should have TR-069 client settings in place to be able to initiate a CWMP connection and be provisioned
Regarding connection to ACS server - most home routers have a DHCP client enabled on the WAN interface after the config has been reset.
Ready?
Configuration guides
Check out our knowledge base for detailed guidelines on using our ACS solution.
Learn more
Try Splynx now
As all other modules ACS is available during the Splynx trial period. Explore how it works!
Get started