Shift towards user self-care – Splynx Customer Portal & TR-069 ACS
The ISP industry has undergone significant transformations in recent years, with a notable shift towards user self-care capabilities. Traditionally, customers had to rely on support representatives for tasks such as troubleshooting connectivity issues, changing service plans, or updating personal information. However, the rise of customer-centricity and the need for streamlined operations have led to the demand for self-service portals that enable customers to manage these tasks independently.
The benefits of user self-care are manifold. Customers gain greater convenience and control over their internet experience, while ISPs benefit from reduced support costs, improved customer satisfaction, and increased operational efficiency. Recognizing these advantages, ISPs are increasingly adopting self-care solutions to meet the evolving needs of their customer base.
Splynx customer portal and its benefits
Splynx customer portal is a useful tool for simplifying the onboarding process and overall self-care of subscribers. Designed with easy-to-navigate blocks, it provides customers with a clear overview of their account, including their service plan, billing information, and any devices connected to the network. This helps customers understand what they are paying for and how to access, pause or order a new service, which in turn enhances self-service management.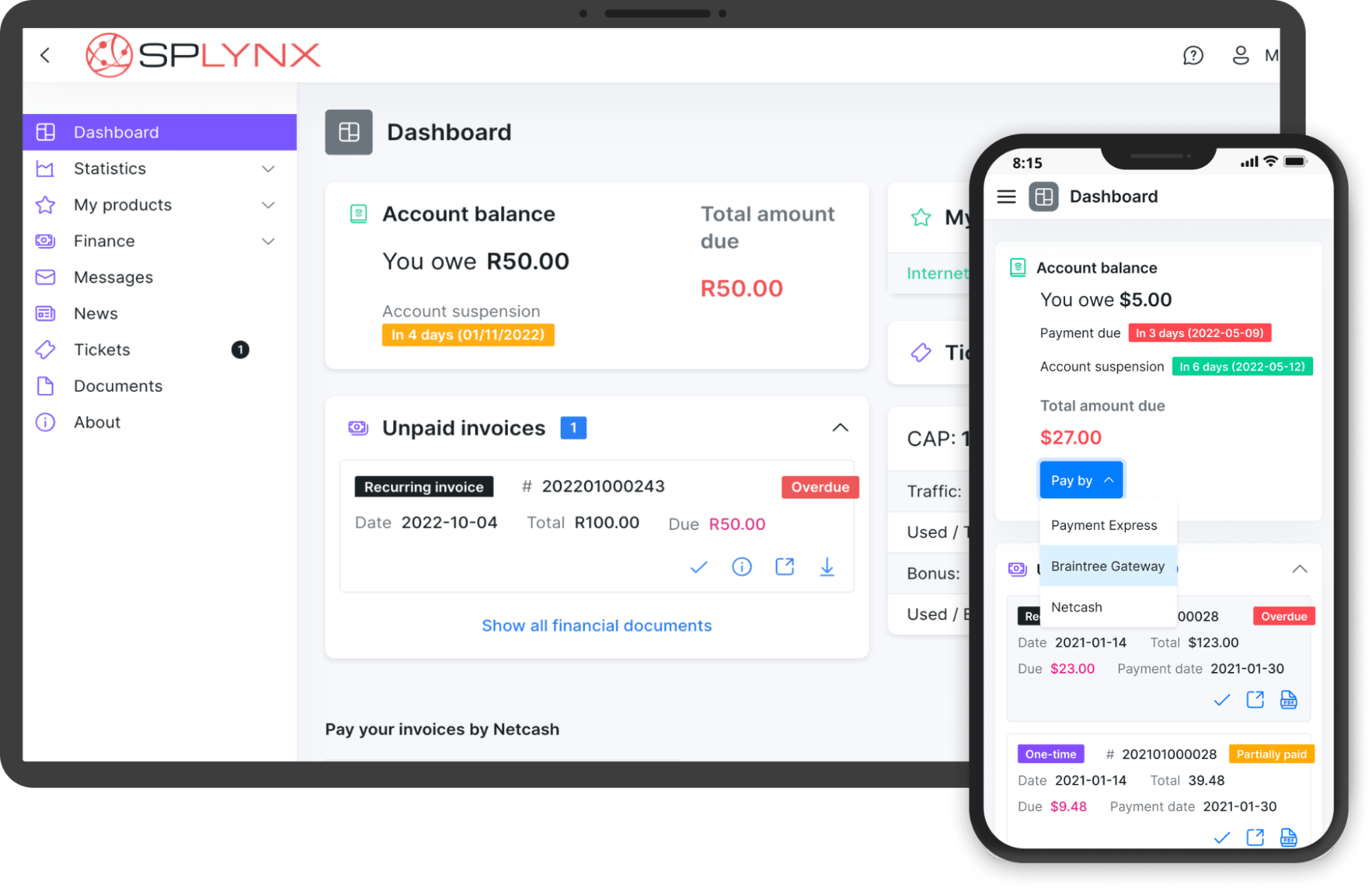 Customer portal offers a seamless and responsive experience across various devices, be it a smartphone, computer, or tablet. Additionally, all new customers receive a quick step-by-step guide around the main blocks of the Splynx portal, which helps them get started quickly and reduce the need for support tickets.

We have re-designed and enhanced self-service management for customers in Splynx v.4.1. Big and intuitive icons are especially handy for mobile users if they want to pause or modify their services as well as to change their passwords just in one click.
One of the key advantages of the Splynx customer portal is its customizability. ISPs can tailor the portal's widgets to align with their brand identity, fostering a consistent and branded user experience. Additionally, the portal integrates smoothly with the Splynx billing and network management system, drastically reducing the development time and enabling a unified platform for all customer interactions. You can also read an article on our website for a more detailed overview of the customer portal.
Splynx TR-069 ACS benefits & self-service options
In conjunction with the customer portal, ISPs can leverage the power of Splynx TR-069 ACS to offer an even greater array of self-service options to their customers. One of the primary advantages of the TR 069 ACS integration is the ability for customers to reboot their devices or change their Wi-Fi SSID and password directly from their portal account. This functionality saves time and resources for ISPs by eliminating the need for support tickets or manual interactions.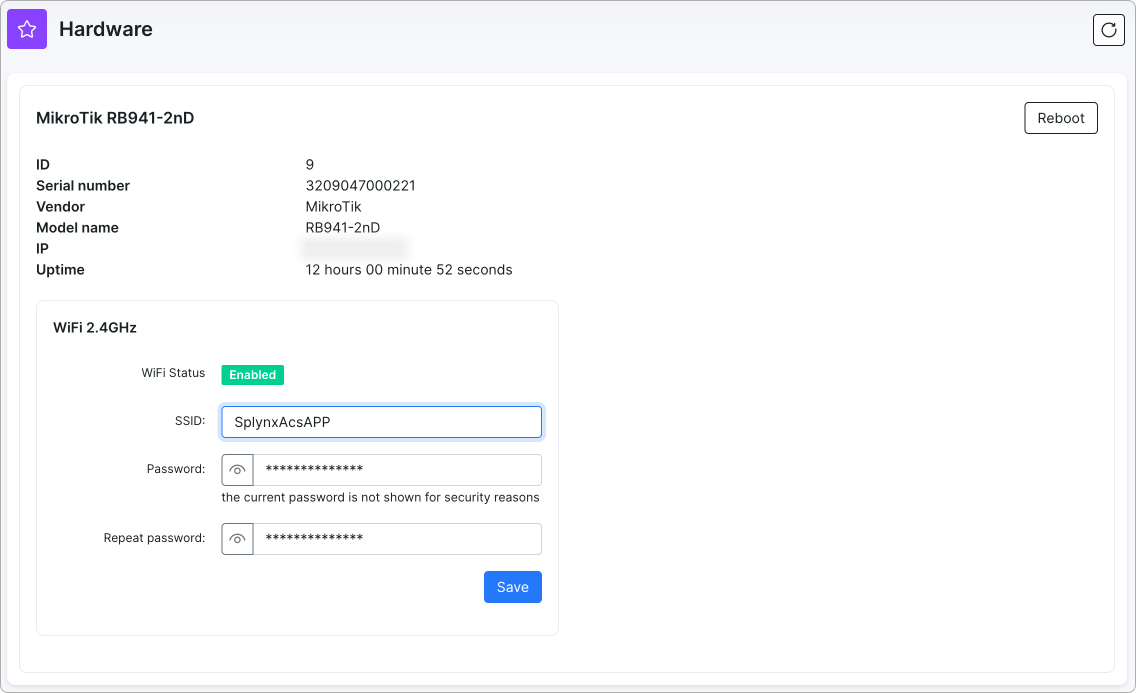 Furthermore, empowering customers with self-service options fosters a sense of satisfaction and control over their internet connection. According to research conducted by McKinsey, when customer satisfaction increases by 10 percentage points, companies can expect revenue growth of approximately 2 to 3 percent. With that said, the implementation of the Splynx ACS module can bring extra resources that are needed for local ISPs to boost their competitive edge against big telcos in the game of connectivity.
Real-life case study and best practices
To illustrate the real-world impact of leveraging Splynx's functionality, let's explore a success story from one of our clients in the USA. By integrating Splynx in 2021 into their operations, Au Wireless experienced significant improvements in automated billing, payments, and customer suspension, which were previously done manually. The TowerCoverage widget was replaced with the Splynx sign-up widget on their website, allowing customers to apply for desired services seamlessly.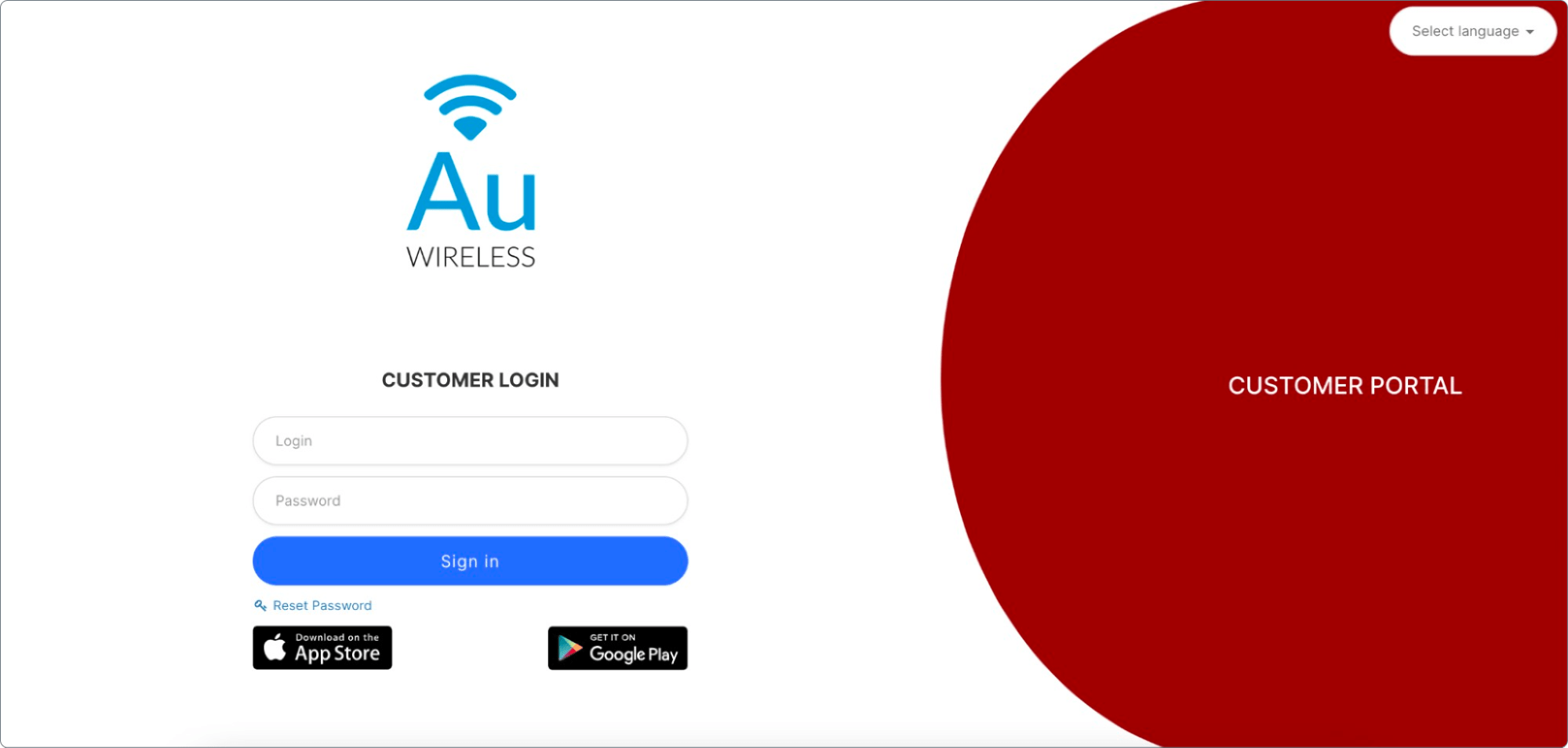 The immediate outcomes for Au Wireless were remarkable. They witnessed a reduction in support calls requesting reconnection after payments, as disconnections and activations became automatic. Additionally, they eliminated income loss from clients enjoying free services without paying. The self-service capabilities offered by the customer portal resulted in improved provisioning and CPE management.
By allowing customers to manage their own plans, we have seen customers selecting faster packages on their own. That has resulted in additional revenue that we were not seeing prior to Splynx when all changes were manual. Customers tend to upgrade themselves instead of calling in or emailing our support teams to upgrade them.
Drawing from success stories like this, here are some best practices for utilizing the features of Splynx effectively:
White label customer portal: Our portal is customizable so you can set it up to suit your business and users' needs.
Streamline account management: Enable customers to update personal information, change services, view invoices, and make payments within the portal, reducing their reliance on support representatives. If you are offering capped plans, your subscribers can top-up their balance and track their usage through the portal, which helps them to enjoy more data without having to upgrade to a higher-tier plan.
Integrate Splynx TR-069 ACS: Allow customers to remotely reboot their devices, change Wi-Fi settings and passwords, reducing the need for any support interactions and costly on-site visits.
Enhance communication channels: Enable seamless communication between customers and support teams within the portal, fostering efficient issue resolution and maintaining a high level of customer satisfaction.
Want to meet your users' demand towards self-care capabilities by delivering the best possible experience?
If you are an existing Splynx customer, simply create a ticket with TR-069 ACS feature request and our support team will help you in no time.
To schedule a free demo click here.