How to manage support processes in Splynx
Splynx is a complete solution that allows ISPs to manage a lot of business processes in one convenient system instead of switching across different platforms. We brought our ticketing system to the next level in v3.0.
Ticketing platform is tailored to telecoms-specific needs, this means that you no longer need such platforms as Zendesk, Helpdesk or any other desk software, you can do much more than just reply to the emails.
Assign the tickets to the right person,  prioritize the work and schedule the tasks for the technicians and check all statistics, agent or performance, and much more within the Splynx Ticketing platform.
The ticketing dashboard represents progressive and interactive data statistics for each contributing header. Each section is represented here by appropriate format, we can observe:
Status of current tickets.
General and per-agent statistics
Live log of recent activities.
Tickets that are currently assigned to you and your administrators
The ticketing platform is directly connected to the customer's profile and CRM, so every ticket is assigned to the corresponding lead or customer. It is also possible to see all tickets or create new ones directly from the customer or lead profile.
Your existing or potential clients can create a ticket in three ways;
By sending a query to your incoming email, like support@yourdomain.com, the ticket will be created automatically in the system and assigned to the correct customer or lead, in case they present in your database. Splynx allows you to set up several incoming emails for different purposes, like sales, support, installations, etc, so tickets will be assigned to the correct team or person depending on the purpose.
By creating a ticket from the customers portal: Tickets → Create
By creating a ticket from Splynx mobile self-service app.
The administrator has two ways of creating a ticket:
Directly from helpdesk module by clicking Create ticket button.

As was previously mentioned, it is possible to create a ticket directly from the customer's / lead's profile by clicking on the Support button and choosing the Create option from the drop-down menu.
The working area is divided into 3 parts: ticket properties, action buttons, and messages area.
In the properties section, we can assign the ticket to the right person, change its status, prioritize the work, assign it to a specific group and set the type.  We also observe the Customer's information like Name, Email, Phone number, and list of recent tickets.
The action buttons allow us to add a note that is hidden from the customer, reply or forward the answer, check all ticket activities, and schedule the task for an engineer. This task will be immediately added to the engineer's calendar and also displayed on the customer's / lead's profile. Check out more scheduling modules in Splynx.
Configuration of Support settings (Config → Support) allows you to customize the platform exactly for your specific needs, configure ticket assignments, your inboxes, all notifications, ticket automation, canned responses, statuses, groups, and much more! It has been proven by many ISPs that Splynx advanced ticketing increases support performance drastically.
In our company, we always strive to continuously improve the level of support that we provide, as this is one of the main factors why our customers want to work with us. Thus we have added various reports that will increase the level of customer satisfaction in your company.
For instance, in our company, we have a dedicated person who tracks the performance of our support engineer and we have created the report that helps to track and evaluate every single ticket and show the areas for further improvement.
All reports are accessible from Administration → Reports → Ticket reports
SLA report – This report helps to track and understand the timing of the agent's replies. We can see the number of replies that your agents send to customers and the time range, this statistic will help you to track and improve the response time of your support department.
Agent performance – This is an overall report for all agents where you can track how many tickets were assigned, how many tickets were reopened/resolved, see the number of all responses, observe the statistics of all averages.
Performance distribution report – This report allows you to track and analyze the response and ticket resolution time.
Considering all information provided above we can definitely state that ISPs, no longer need to use ZenDesk or Freshdesk, or any other 3d party solution, as it is all done within the Splynx platform.
More in Customer service
Customer service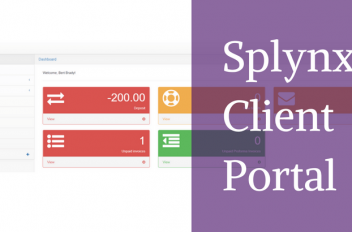 Client portal automation allows ISPs to not only provide streamlined downstream services, but also reduce labor costs an...
Customer service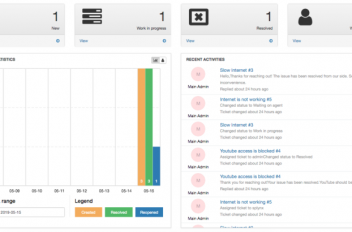 Splynx is a complete solution that allows ISPs to manage a lot of business processes in one convenient system instead of...