Boosting sales and customer loyalty: 3 strategies for local ISPs
In the current landscape, the internet service industry has become highly saturated. Acquiring new customers alone will not be enough to compensate for the loss of existing ones. Therefore, it is crucial for Internet providers to prioritize customer retention as a core objective. This article will explore 3 strategies for local ISP business owners to increase their sales and foster long-term customer loyalty.
1. Referral programs
Almost 92% of customers place their trust in recommendations from people they know. Furthermore, individuals are four times more inclined to make a purchase when a friend suggests it. These statistics underscore the significant potential of referral programs as an invaluable resource for local ISPs to harness the influence of word-of-mouth marketing. Through the implementation of a carefully crafted referral program, you can effectively utilize the trust and impact of your contented customers to acquire new business.
Incentivize referrals
Motivate your customers to refer others to your ISP by offering incentives. By rewarding both the referrer and the referee, you create a win-win scenario that encourages active participation. Incentives can take various forms, such as discounts on monthly bills, free service upgrades, exclusive add-ons, or even cash rewards.
Evan Galvin, CEO of Ping Marketing highlighted that the most effective approach for ISPs is to provide both your existing customer and the referred new customer with a free month of service. This not only makes everyone involved feel appreciated but also generates excitement and motivation to participate in the program. Let's put it into context: if your monthly service is priced at $60, you'll only be investing $120 to acquire a new customer. This presents a fantastic opportunity, particularly when compared to alternative customer acquisition methods.
Simplify the referral process
To increase the likelihood of referrals, it is essential to make the process as simple and convenient as possible for your customers. Provide personalized referral links that customers can easily share with their friends and family. You can also offer pre-designed email templates or social media sharing options that streamline the referral process. By minimizing the effort required, customers are more likely to actively refer others, expanding your customer base organically.
When implementing a robust tracking system it is crucial to accurately record and attribute referrals. Whether through automated tracking software or manual tracking processes, ensure that each referral is properly attributed, allowing you to recognize and appreciate your customers' efforts. Regularly communicate with referrers, updating them on the status of their referrals and providing timely rewards or incentives.
2. Loyalty programs
By prioritizing the satisfaction and loyalty of your current customer base, you can effectively sustain and grow your business. Customer loyalty programs play a crucial role in fostering customer trust and engagement, thus driving repeat business for local ISPs. Here are some additional insights to enhance the understanding of loyalty programs:
Tiered rewards
Creating a tiered system within your customer loyalty program adds an element of exclusivity and encourages subscribers to strive for higher tiers. By offering escalating rewards based on loyalty and usage patterns, you can make customers feel valued and appreciated for their commitment. For instance, customers who reach higher loyalty tiers could be rewarded with exclusive discounts, faster connection speeds, priority customer support, or additional services. This tiered structure provides a sense of achievement and motivates customers to continue their loyalty journey.
Points system
Implementing a points-based system within your loyalty program allows customers to accumulate points for various activities that contribute to the success of your ISP. For example, customers can earn points for paying their bills on time, referring new customers, or participating in feedback surveys. These points serve as a tangible representation of their efforts adding gamification elements and making it more engaging and enjoyable for customers. Customers can then redeem their accumulated points for attractive rewards such as discounts on monthly bills, plan upgrades, free service add-ons, or even exclusive experiences.
3. Community engagement with local residents
Engaging with the local community is an excellent strategy for local ISPs to build brand recognition, trust, and loyalty. Community engagement is not a one-time effort but an ongoing commitment. By allowing community members to have a say in your operations and making them feel heard and valued, you establish a mutually beneficial relationship that leads to increased customer loyalty and a positive brand image within the community.
Sponsor local events
Support and participate in local events such as charity runs, festivals, or school programs. 80% of consumers find that physical brand experiences contribute to their purchasing decisions. Moreover, after trust and rapport was established during an event, 98% of customers are inclined to make a purchase. By sponsoring these events, you not only enhance your brand visibility but also demonstrate your commitment to the community's well-being. Additionally, actively engage with event attendees, initiate conversations, and listen to their feedback and concerns.
Collaborate with local businesses and institutions
Foster partnerships with local businesses and institutions to create mutually beneficial initiatives. This collaboration can include joint marketing campaigns, shared discounts, or bundled service offerings that cater to the needs of the local community. By working together, you can leverage each other's customer base and enhance the overall customer experience.
bitCONNECT, our client from South Africa, leverages the integration with Whalebone to enhance its offerings for concerned parents seeking to safeguard their children's online activities. By utilizing protective on-premise DNS resolver, bitCONNECT is able to provide robust security packages that effectively block access to adult, drug-related, and inappropriate content. The success of these security solutions is evident as local businesses and institutions proactively opt for the security service during the application process, showcasing the effectiveness and popularity of bitCONNECT's commitment to online safety.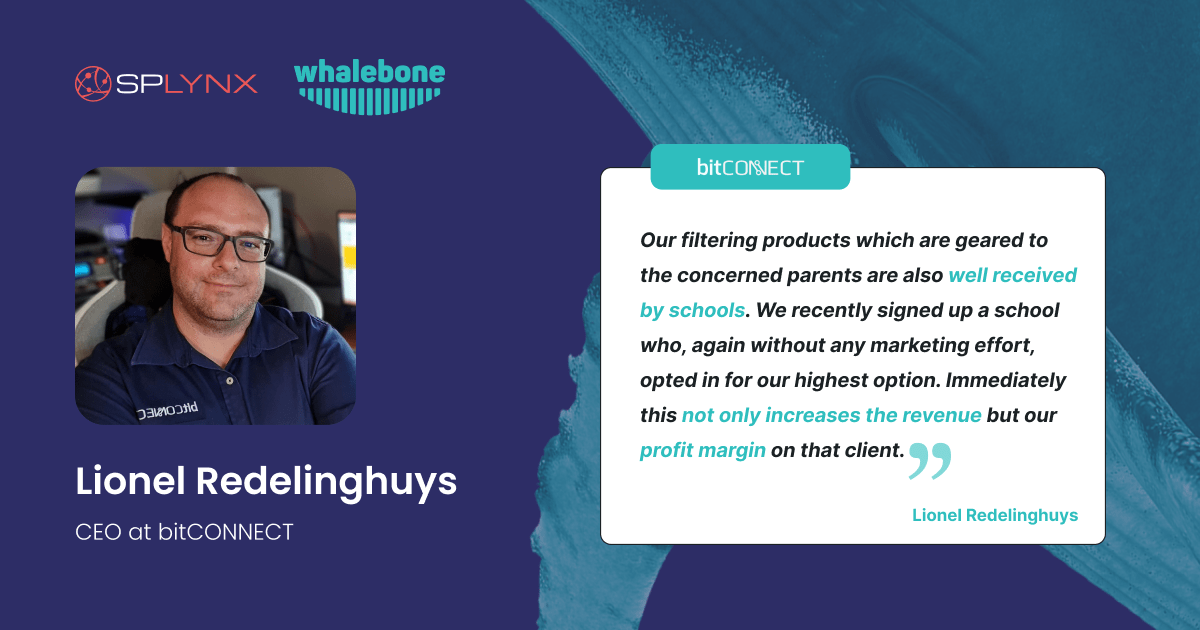 Additional articles to boost your ISP growth:
Conclusion
Internet providers have a unique opportunity to thrive in the market by building customer loyalty. By continually adapting and refining the 3 strategies from this article, based on customer feedback and market trends, local ISPs can position themselves as trusted businesses and achieve long-term success in the ever-evolving telecommunications industry.