Streamlining network management: A closer look at Splynx's capabilities
Efficient network management is essential for ISPs to deliver reliable and high-quality services to their customers. With the increasing complexity of networks and the demand for seamless connectivity, local ISPs require robust systems that can streamline their operations and ensure optimal performance to be able to compete with large telcos. In this article, we'll take a closer look into the capabilities of Splynx to understand how it empowers 800+ ISPs worldwide to effectively manage their networks, improve efficiency, and enhance customer satisfaction.
Why should local ISPs prioritize efficient network management?
Network management refers to the processes, tools, and practices employed by ISPs to oversee and control their networks. Here are some key reasons why network management is of utmost importance:
Network performance: Effective network management enables proactive monitoring, quick troubleshooting, and prompt resolution of issues, thereby minimizing downtime and optimizing network performance.
Customer satisfaction: With efficient network management, ISPs can deliver consistent and high-quality services, meeting customer expectations and fostering long-term relationships with them.
Scalability: As ISPs expand their customer base and network infrastructure, network management becomes even more critical. It facilitates seamless scalability, allowing ISPs to handle increasing traffic demands, accommodate new technologies, and adapt to evolving customer needs.
Splynx: Empowering ISPs with robust network management capabilities
As a comprehensive ISP Billing and Network Management System, we offer a wide range of features to simplify and streamline your network management processes. Moreover, Splynx is compatible with any hardware or software that is managed via RADIUS, SNMP, API, TR-069 or SSH.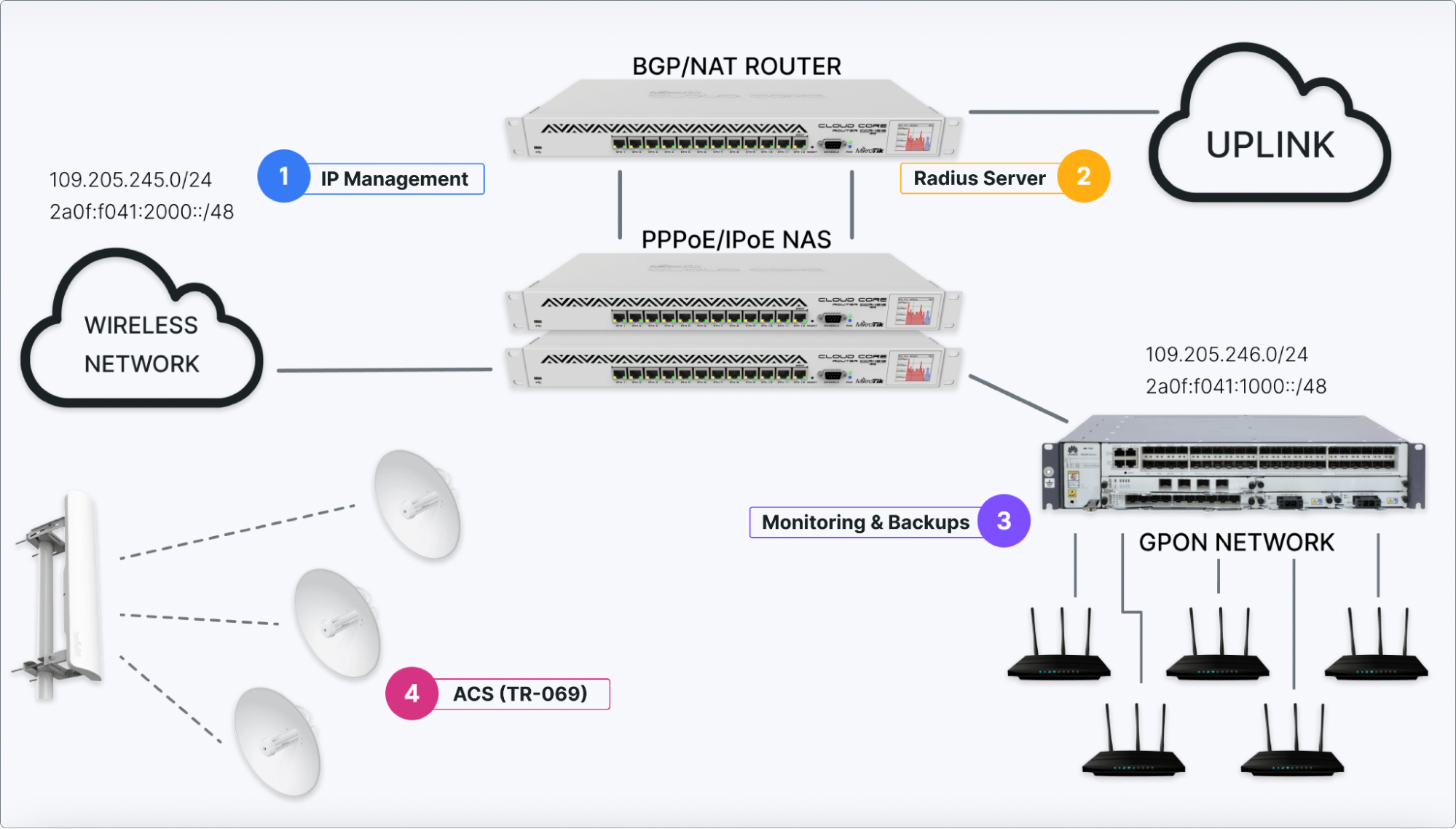 Let's explore some of the key capabilities:
IP Address Management
Splynx provides a robust IP Address Management (IPAM) system that supports both IPv4 and IPv6 as well as full integration with ACS and RADIUS servers. With IPAM, ISPs can efficiently allocate and manage IP addresses, improving network organization and ensuring proper utilization of resources.
RADIUS server
RADIUS server is our own in-built powerful protocol that allows for centralized customer authentication, blocking of non-payers, getting statistics of Internet usage while supporting different vendors.
RADIUS failover is a beneficial feature for ISPs that allows you to create an additional server or servers that will act as a backup for the main Splynx RADIUS server in the event that the Splynx server is under maintenance or loses connection with the main server. It was implemented to increase the reliability and resilience of the RADIUS protocol and its interactions with NAS devices.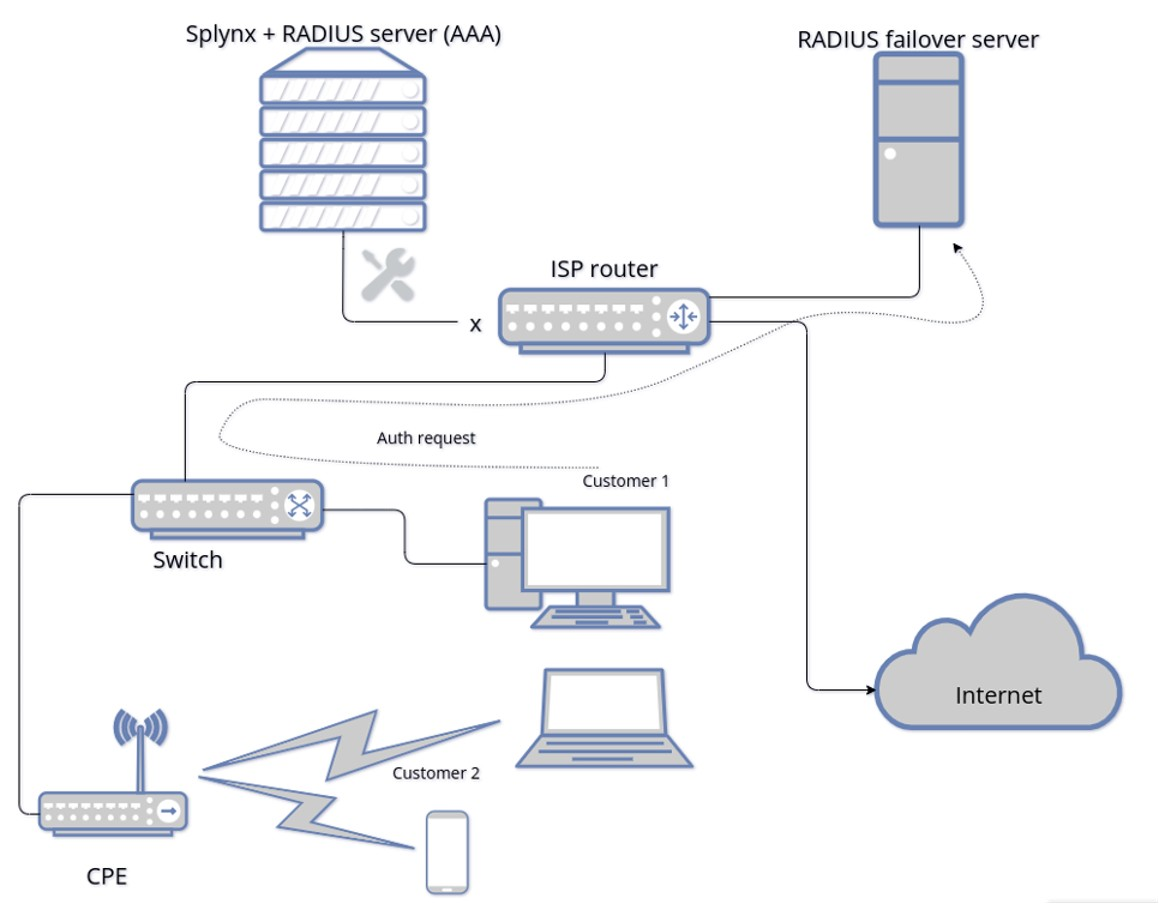 Splynx RADIUS allows you to centrally manage your administrative access to the network and provide central AAA based services to a customer. This server facilitates authentication, statistics tracking, blocking, and speed limitation, enabling ISPs to maintain control over network access and deliver enhanced security measures.
Monitoring and Backups
Splynx offers comprehensive monitoring and backup functionalities, empowering ISPs to stay vigilant and prepared. Through SNMP, PING, and SSH protocols, ISPs can monitor network devices, detect issues in real-time, and take proactive measures. With Splynx's change management functionality, ISPs can easily access a detailed log of all the changes made within the network. This log includes information about who made the changes, when they were made, and the specific configurations that were modified. The backup feature provides a safety net for ISP administrators, allowing them to revert to a known working configuration in case of failures from recent changes, ensuring quick restoration.
In addition, Splynx's network management capabilities include the visualization of network topology through network weathermaps. These weathermaps offer a graphical representation of the network infrastructure, displaying the interconnections between different sites and live usage of links. They can identify potential bottlenecks, congested links, or areas with high traffic utilization, which helps ISPs make informed decisions regarding network optimization, capacity planning, and resource allocation.
TR-069 ACS Server
Splynx TR-069 ACS solves issues with manual provisioning and remote device management in an effortless and cost-effective way. It enables ISPs to:
Automatically configure devices based on your own provisioning flow.
Remotely manage devices from a single place, reducing the need for on-site technicians.
Perform desired actions such as firmware upgrades with multiple devices at once, saving you time and ensuring consistency.
Monitor devices in real-time to proactively identify and resolve issues on the spot.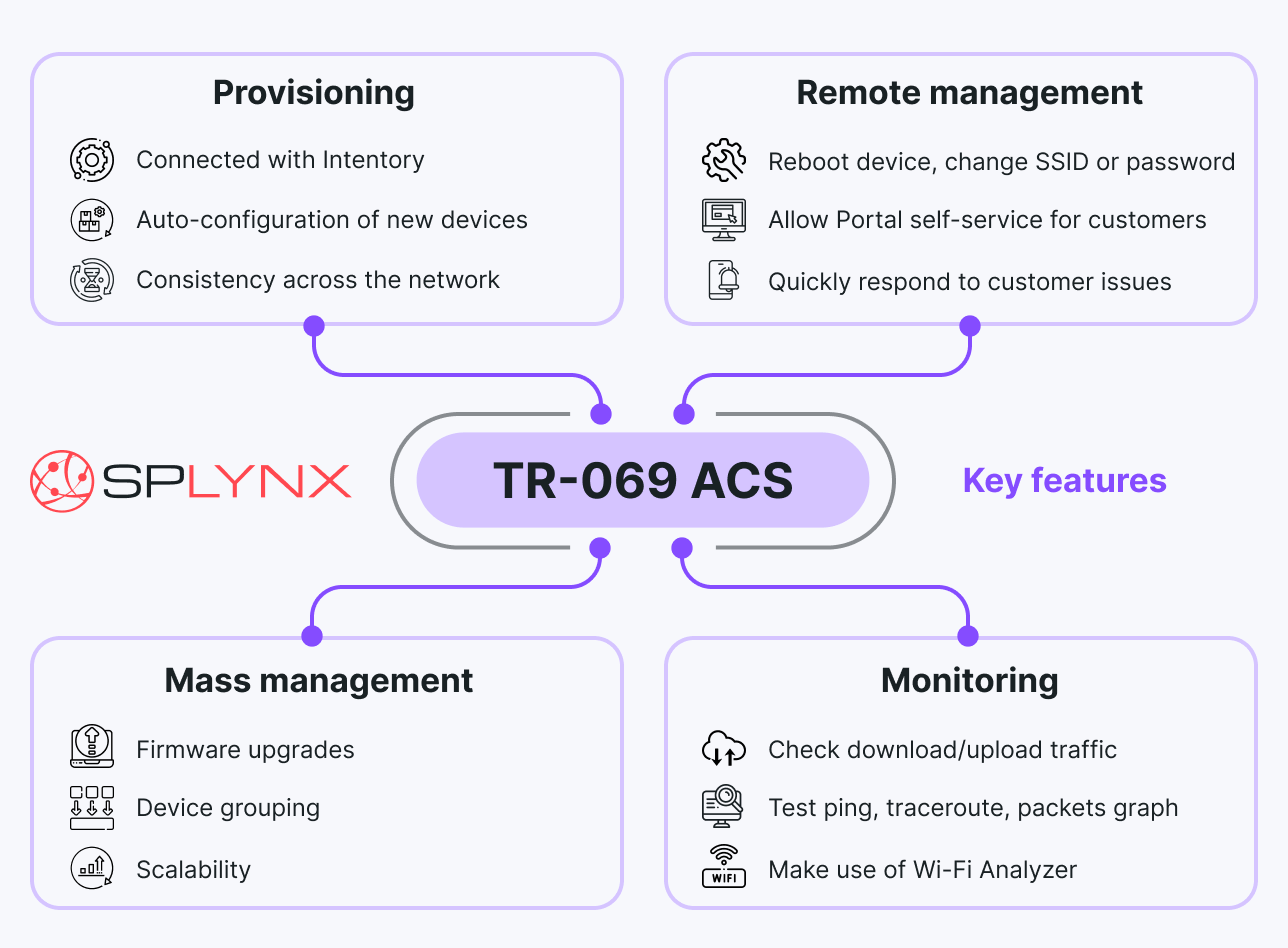 "Splynx has added provisioning and all of the things we've wanted to do over the years but no system could really support them.", – Spencer Pous, CEO at BluBroadband, United States
API Integration
With Splynx's REST API, ISPs can seamlessly connect third-party systems, allowing for custom integrations and expanding the system's functionality. Splynx already offers modules for managing Huawei OLT, Mikrotik queue bandwidth control, Preseem QoE, and Whalebone Peacemaker – solution to help ISPs stand out from the competition by providing a reliable Internet connection and fast, secure browsing with a full-featured, on-premise, secure DNS resolver.
"Our previous platform was not good in general. The other reason to move to Splynx was that we didn't have access to the database or API, and had no way to create our own queries. Thus, flexibility was quite important and Splynx was able to deliver it.". – Paul Gerhardt, Technical director at Fitel Network, Spain
Benefits and use cases of Splynx Network Management capabilities
The adoption of Splynx has yielded numerous benefits for local ISP business owners all over the world. Let's explore some of the cases to understand how Splynx has made a positive impact: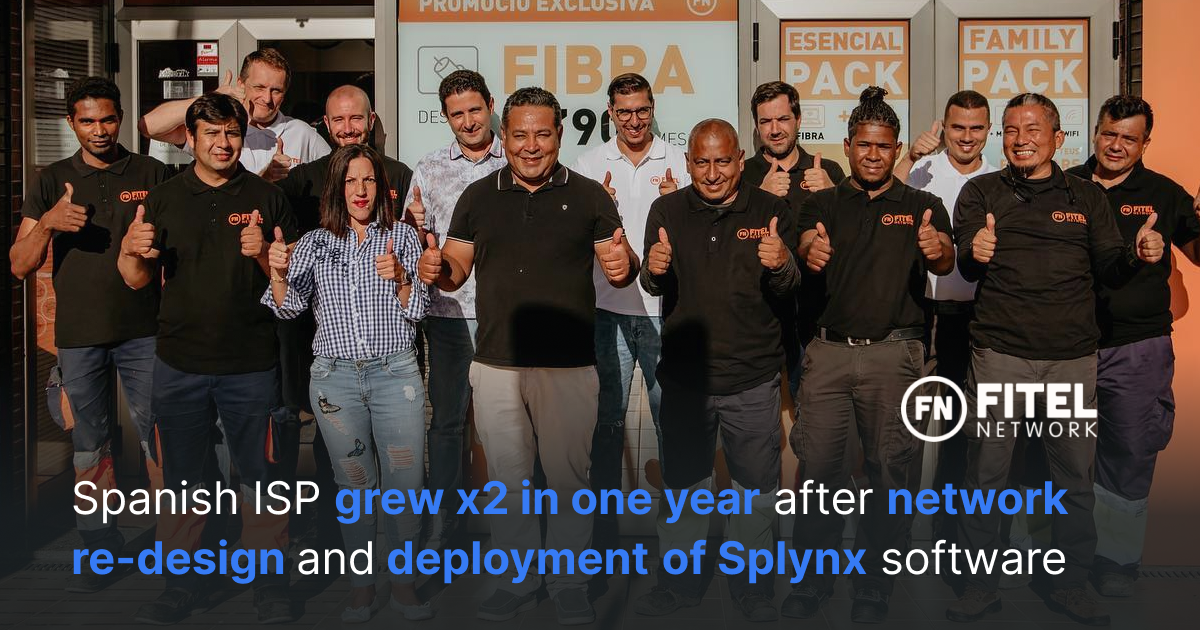 Fitel Network, Spain
Fitel Network optimized its operations by deploying Splynx's ISP billing system and redesigning the core network to support 10G throughput. By implementing Splynx's Huawei OLT management and ACS server, the network experienced reduced provisioning time for new fiber customers. Additionally, registering AS and IPv4 address space provided independent BGP connections, enhancing network stability and performance. Read the full success story on our website.
Mind the Speed, South Africa
Flexible Splynx Radius server replaced the previous solution. The migration to Splynx gave the possibility to create multiple realm and API customisations that allowed a very flexible way of customer authentication via different locations, fiber partners and resellers.
Canfone, Canada
A Canadian ISP was looking for a solution to manage Mikrotik routers that they deploy in the network of wholesale DSL operator. Splynx offered Canfone a solution to manage their CPE devices – to block non-payers, manage Wi-Fi access, monitor usage. As a result, the client achieved better management of customer routers for suspension and remote access via the OVPN network for CPE management.
Skywire, South Africa
After migration to Splynx, Skywire got one central platform that eliminated manual management of LTE authentication and bandwidth management. Splynx provided central IP address management, equipment tracking and map of the network. Administrators reduced the time to provision one customer in three times compared to what was before Splynx deployment.
Tips for local ISP business owners
In addition to leveraging Splynx's capabilities, here are some valuable tips for local ISP business owners to optimize their operations and achieve sustainable growth:
Embrace automation: Automation is a game-changer when it comes to boosting your ISP business growth. Identify repetitive tasks such as device provisioning, configuration backups, and firmware upgrades, and automate them using Splynx's ACS server and SSH backup tool. By reducing manual intervention, you can improve operational efficiency, minimize errors, and save valuable time.
Foster proactive monitoring: Leverage Splynx's monitoring capabilities, including SNMP, PING, and SSH, to keep a close eye on your network devices. Set up real-time alerts to promptly detect and resolve any issues that may arise. Proactive monitoring allows you to address potential problems before they impact your customers, ensuring a seamless browsing experience and minimizing customer complaints.
Leverage API integration for custom solutions: Explore the possibilities of integrating Splynx with other systems and services relevant to your ISP operations specifically. Our developers can provide tailored solutions that meet your specific requirements, further enhancing the efficiency and effectiveness of your workflow.
Conclusion
Efficient network management is the cornerstone of success in the game of connectivity for local ISPs. With Splynx's comprehensive set of features and capabilities, ISPs can streamline their operations, enhance network performance, and improve customer satisfaction. Embrace this opportunity, and position your ISP for sustainable growth in the ever-evolving world of connectivity.