Hardware Backup & Change Management in Splynx
Maintaining network stability and reliability is paramount for both ISPs and their valued customers. To address this, Splynx offers modern features such as Hardware Backup and Change Management. Surprisingly, many of our clients are unaware of their full potential and the robust security net they can provide. That's why we have decided to talk about it in this article.
Ensure stability in your network with Splynx
Your instance is backed up every 6 hours to our encrypted mainframe. For more control, our SSH tool empowers you to back up any device and monitor configuration adjustments effectively. It stores backups of device configurations, ensuring that network operators have a reliable fallback in the event of failures or disruptions. Moreover, it comes at no extra cost or additional license to our clients.

Network engineers deal with many routers that usually have different configurations. Imagine a scenario where a router's configuration undergoes unintended changes from someone on the team, leading to network outages for the customers. With Change Management, you can identify the precise moment and the administrator who did the configuration change, revert to the last stable backup, and effectively avoid catastrophic failures.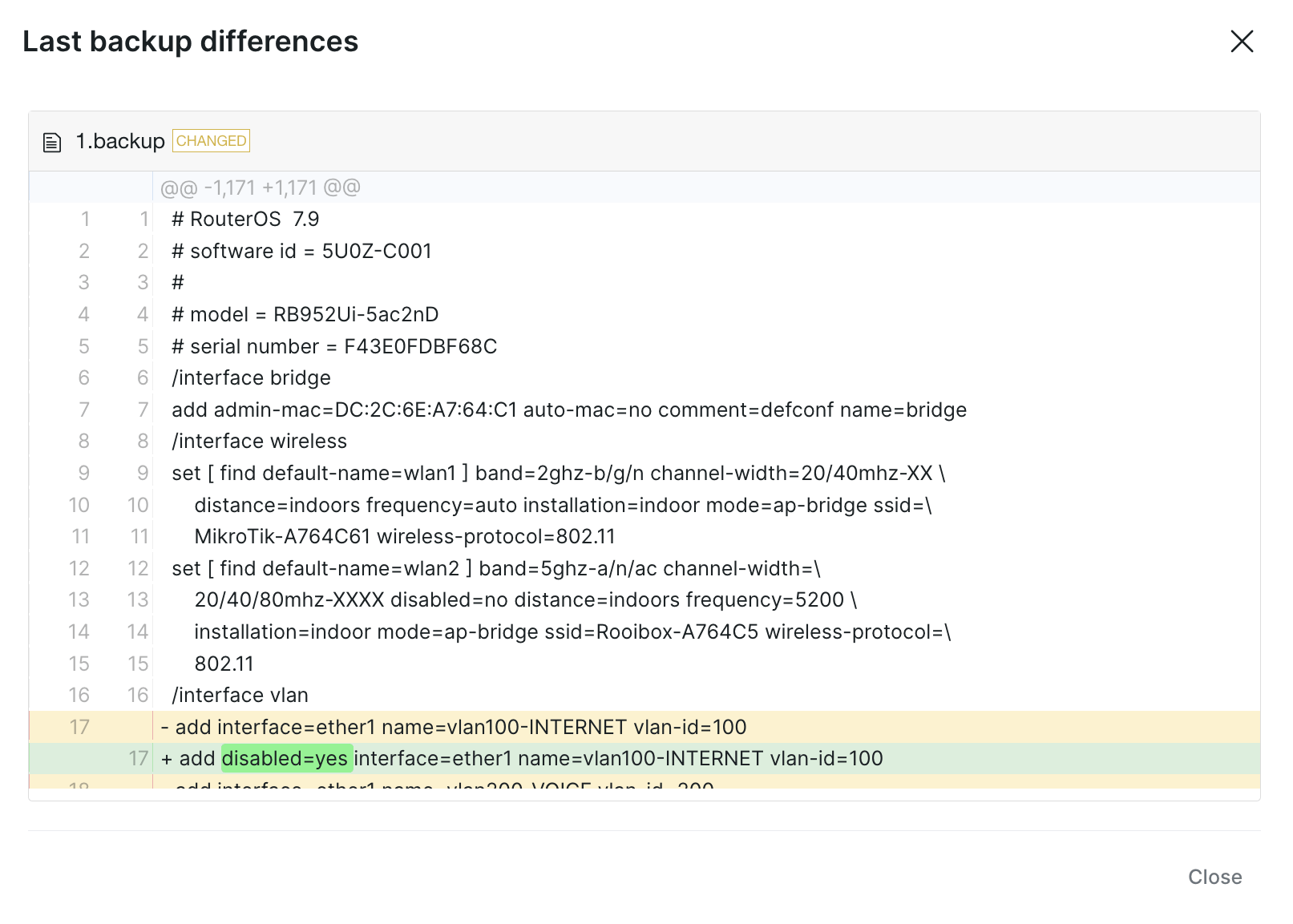 The side-by-side analysis unveils precisely what has changed between the last two backups, pinpointing any modifications that might have led to a failure.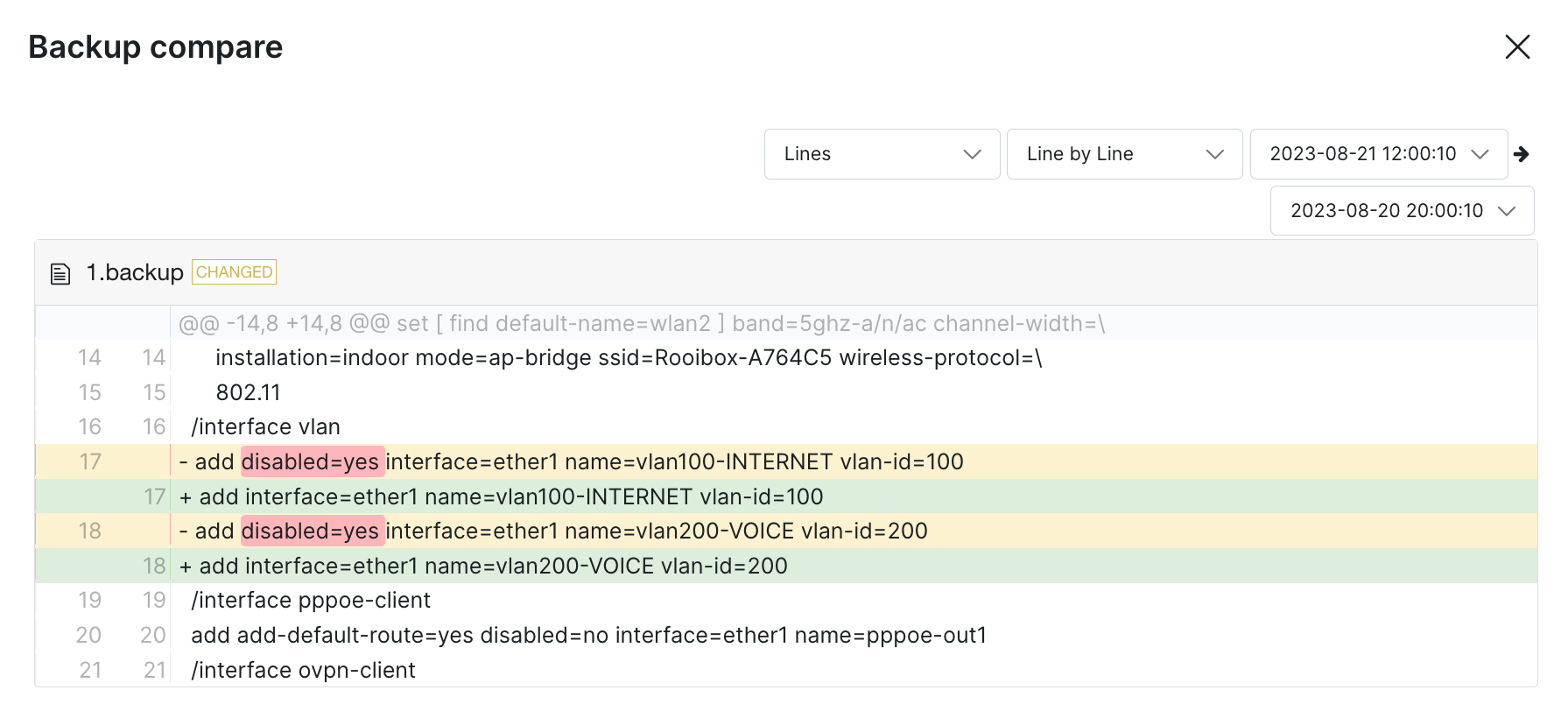 Additional tools
Splynx RADIUS failover server offers an extra layer of protection. This feature lets you establish supplementary backup server(s) that come into play if the main Splynx RADIUS server undergoes maintenance or loses connection.
To provide our clients with fast and reliable support, we developed a Remote Support add-on that enables our support team to remotely access your system and resolve issues. It also facilitates cloud-based backups every 6 hours, ensuring that your data is secured even if your server gets compromised.
Configuring Hardware Backup
1. Using the SSH protocol, Splynx has the capability to conduct device backups by logging in and running commands that provide the device's configuration details. Just set up the login credentials, specify the communication port for SSH protocol, define one or multiple commands to be executed, and select the preferred backup schedule.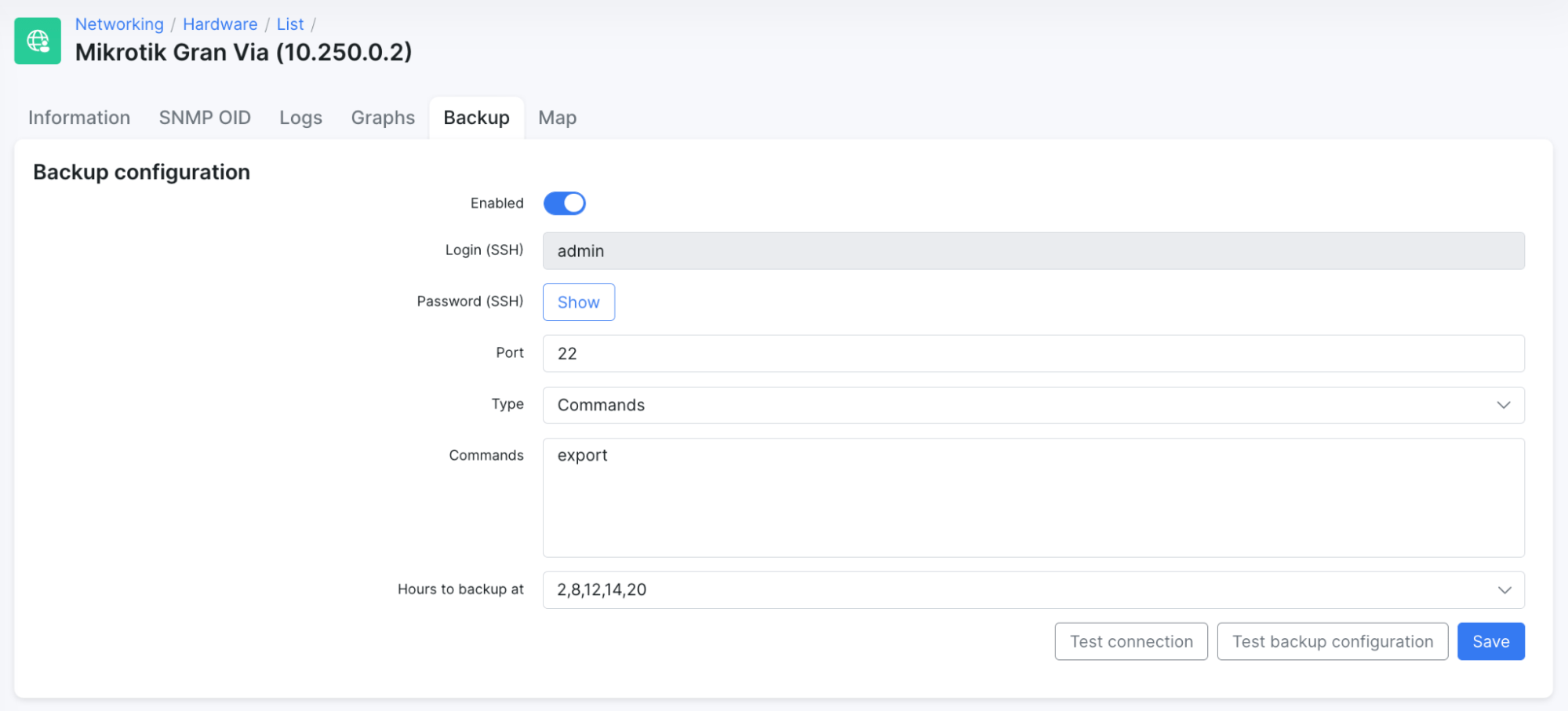 2. Select "Test connection" and "Test backup configuration" to verify its functionality.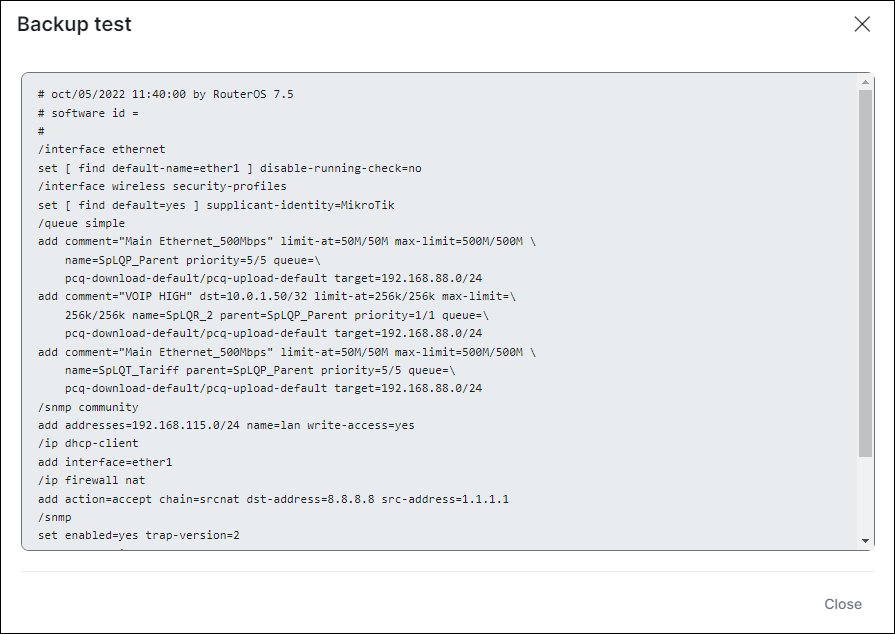 In the example above, we've employed the MikroTik "export" command to extract the complete configuration of the router. For other manufacturers, a similar approach can be adopted, such as executing commands like "show running-config" for Cisco devices, to attain comparable results.
3. Within the Networking section, navigate to Hardware and then proceed to Backups. Here, you will discover a list of backups associated with various devices.

In the "Actions" section, there are the following options:
"View Difference" shows backup distinctions (minimum 2 backups required).
"Download" provides the latest backup download.
"Search" helps find keywords within backups.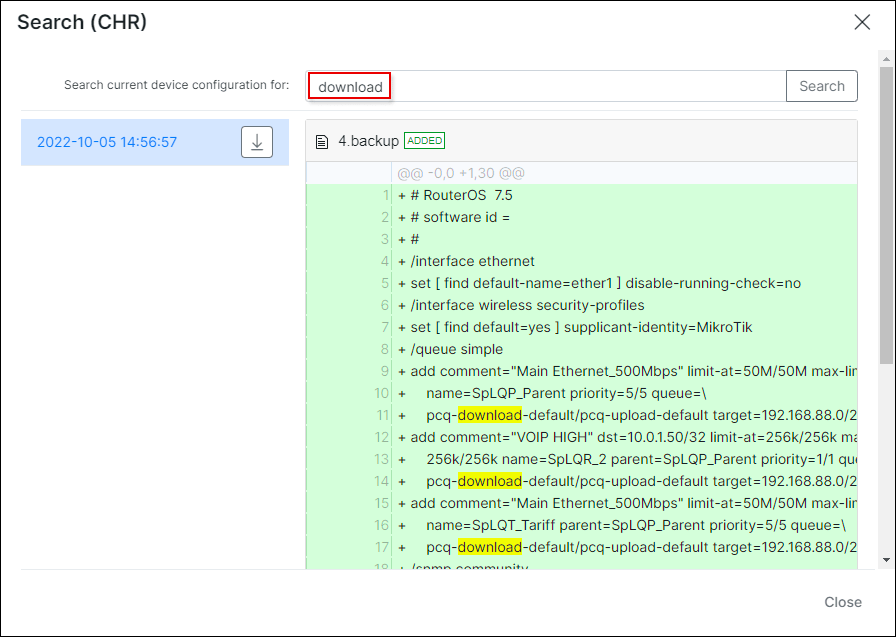 4. It is possible to get a notification when a device goes down, helping you to see and resolve the issue as fast as possible. To begin, create a notifications group in the Config → Networking → Monitoring section.

5. Using this configuration, we can establish a "Engineers" group composed solely of an "admin" administrator. This admin will receive both email and portal notifications on the dashboard. The email's subject will be "Device alert!" and the email's content is determined by a modifiable email template.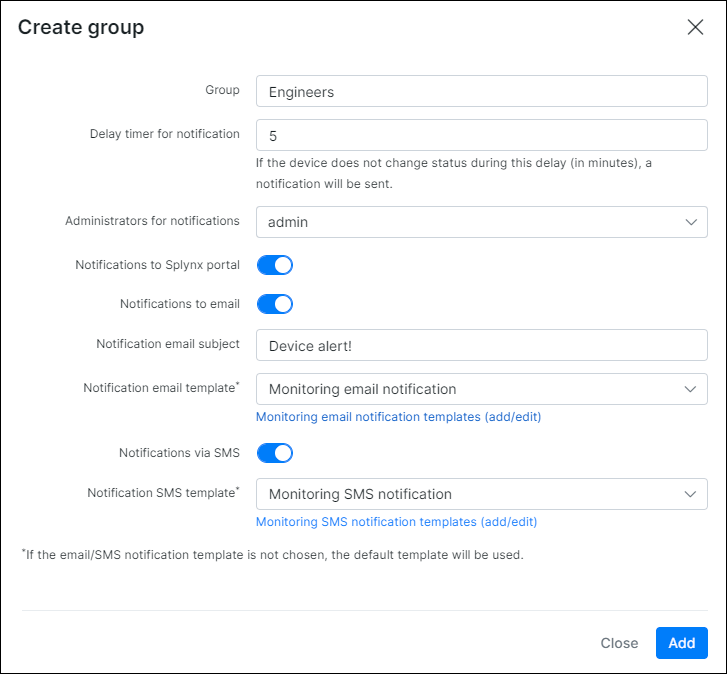 6. Following this, the next step involves modifying the group assigned to the device.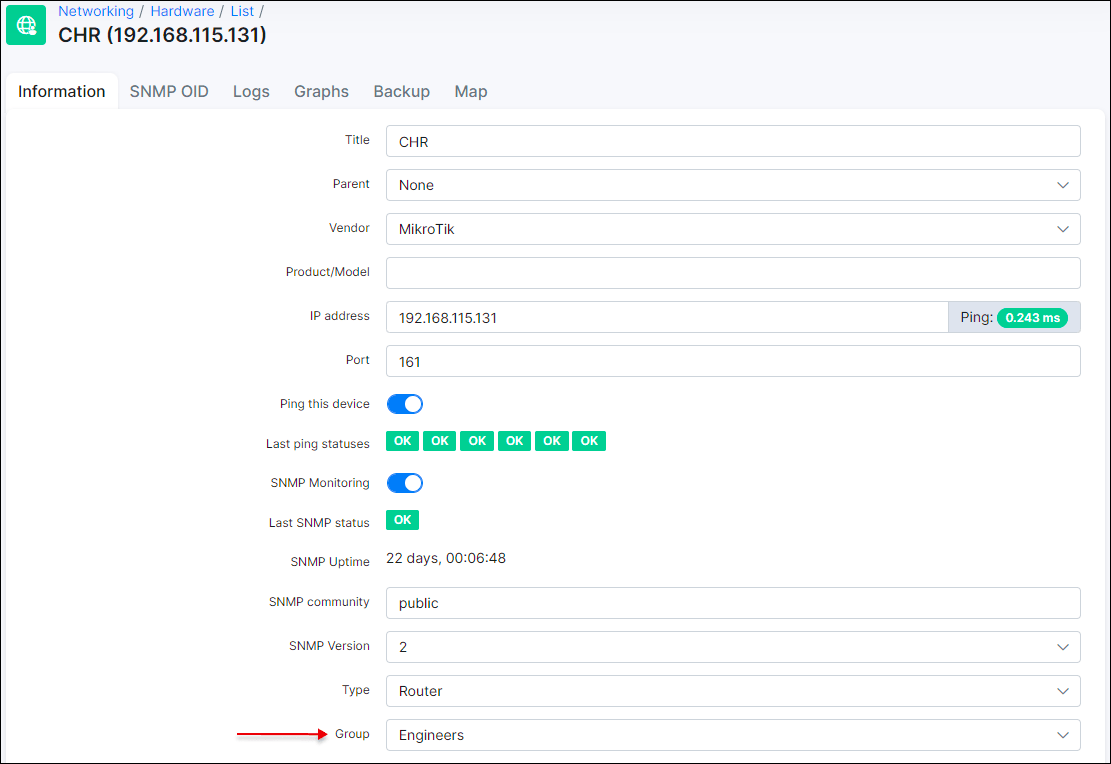 For more information about Backups visit our documentation.
Conclusion
By providing a mechanism to safeguard and restore configurations, Splynx empowers ISPs to uphold service quality, minimize downtime, and foster customer trust. Embrace the Hardware Backup & Change Management features today – a reliable tool that is a testament to our commitment to enhancing network management in the digital age.