Bandwidth management in Splynx
As a local ISP business owner, ensuring efficient bandwidth management is crucial for maintaining customer satisfaction and optimizing network performance.
Bandwidth management refers to the strategic allocation and control of network resources to ensure optimal utilization and fair distribution of available bandwidth. It involves implementing policies, configurations, and tools to regulate the flow of data within an ISP's network. Effective bandwidth management is crucial for several reasons:
It enables ISPs to deliver reliable and consistent network performance, preventing congestion and slowdowns that can lead to customer dissatisfaction.
It allows ISPs to prioritize critical applications or services that require higher bandwidth, ensuring smooth operation and quality of service.
It helps ISPs manage network costs by optimizing resource allocation and avoiding excessive bandwidth consumption.
FUP
Many ISPs use a Fair User Policy (FUP) to regulate the usage of data by their customers. This means if a customer downloads or uploads more than a certain amount of data, his speed is reduced. We've moved this idea on to a different level and made it as configurable as it can be.
For instance, the following FUP settings can be configured in Splynx:
Define customer speed based on the amount of traffic consumed per month, per week, or even per day
Define customized speed limits for different time periods, such as doubling the speed at night or reducing traffic during weekends
Set up maximum online time in hours per customer
Set the day to reset monthly or weekly limits
Send FUP notifications after applying the rules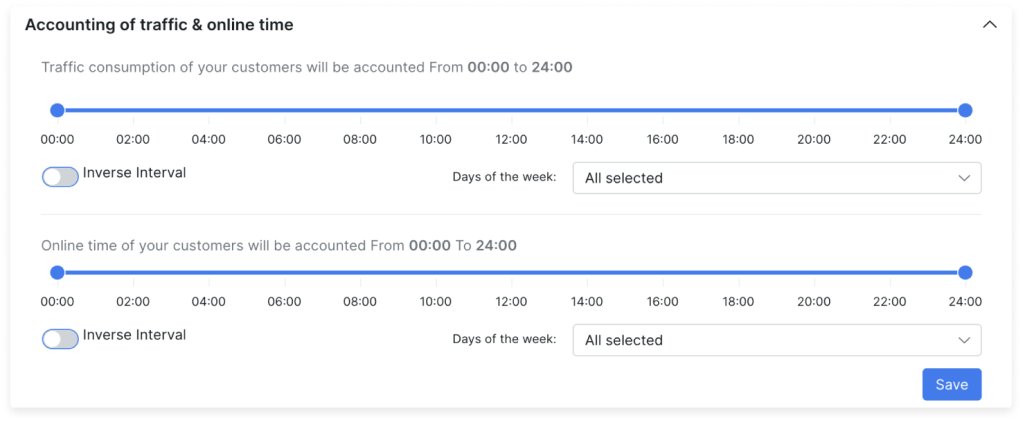 With FUP it is easy to set up rules for the accounting of customer's usage and online time with automatic blocking if the allowed amount of data or online time is reached. Here's how it looks like if you want to block customers when they have used 50GB of data.

You can also introduce bonus traffic during holidays or weekends, providing customers with additional data allowances at no extra cost. This proactive approach not only enhances customer experience but also encourages customer retention and positive word-of-mouth referrals.
Example: Let's say you want to set up a rule in FUP Policies for unlimited traffic for users on Saturdays and Sundays, so they will receive +40% speeds. Here's how it will look like:

Previously we had everything separate, a different billing system, another ticketing system, inventory management was havoc, and radius/ NAS was not up to the standards. If we created a new package we had to reboot our NAS. Which was something we debated for a long time to be fixed. We cannot give bonus data to customers other than what's defined on the package. With Splynx all these were getting addressed, billing, customers, ticketing, inventory, scheduling and Radius/NAS all these were coming into one centralized system. Moreover, numerous options on Tariff plans which we could provide to customers. Such as bonus data and setting bandwidth boost for different hours of the day. For us, Splynx was the gem that we had been searching for a long time.
CAP configuration
CAP is a feature that is used by ISPs in many countries to provide Internet services with monthly limitation of data and charge customers for additional data in the form of top-ups.
CAP configuration in Splynx enables ISPs to set monthly limits for internet plans based on download, upload, or bidirectional usage. This feature empowers you to provide bonus traffic during specific time periods, rewarding customers and enhancing their overall experience. Moreover, unused customer data can be rolled over to the next month, maximizing resource utilization and customer satisfaction.

ISPs can also boost revenue with Top-Up plans (applied automatically or manually) with defined prices, data allowances, and validity periods. This flexibility enables ISPs to cater to diverse customer needs and monetize additional services effectively.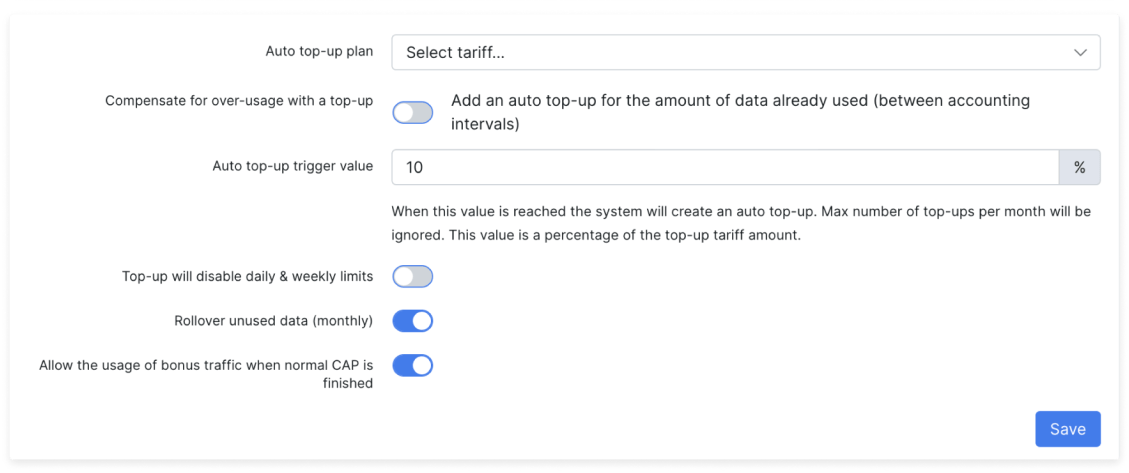 For instance, if a customer has a monthly internet plan with a data limit of 50 GB, they can purchase a 10 GB Top-Up plan for an extra fee. This additional data is added to their regular monthly bill. It allows the customer to enjoy more data without the need to upgrade to a more expensive plan. Capped tariff plans also help reduce network congestion by encouraging customers to use their data more efficiently. When customers are aware of their data limits, they are less likely to engage in data-heavy activities like streaming HD videos or downloading large files, which can slow down the network for others.
It's really important to inform the customer about the amount of data used to avoid "surprises" when the Internet is not available and the customer wasn't notified. Thus, we developed a flexible system of CAP notifications that can be sent via email or SMS, where you can select an auto top-up trigger value. This ensures a smoother and more transparent experience for the customer, minimizing any frustrations caused by unexpected interruptions.

Moreover, on Customer Portal Dashboard users can easily check their monthly traffic usage and limits. This helps them to understand how much traffic they have used and top-up their balance if needed.

You can read more about Capped plans and Top-Ups in our documentation.
Contention / Aggregation
Contention or aggregation is a commonly used practice in the ISP industry, where end-users share the available bandwidth within a specific package. Splynx offers plan-based and router-based contention configurations, allowing ISPs to sell services with contention rates such as 1:5 or 1:10. By effectively managing contention, ISPs can ensure fair allocation of resources, prevent oversubscription, and maintain consistent service quality for all customers.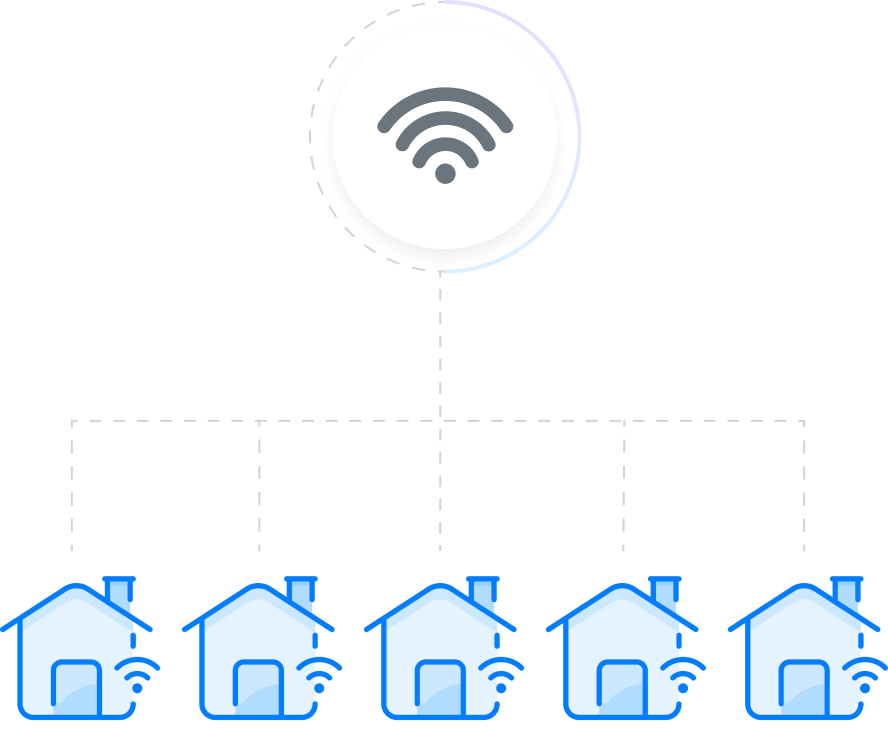 For example, when you are selling a 5 Mbps plan to customers with a plan-based contention ratio of 1:5, Splynx will set up the parent speed limit of 5 Mbps. Under this parent, it will place 5 users with a speed limit of 5 Mbps each. What happens in this situation is that, if the line is free and one user starts to download/upload, this user will get the full 5 Mbps throughput. In the case that a second user starts actively downloading, they will receive 2,5 Mbps each. When all 5 users download simultaneously, they will share the parent queue's bandwidth: each receiving their required 1Mbps minimum speed.
Read more about Contentions in our documentation.
Conclusion
Successful bandwidth management is an ongoing process that requires continuous monitoring, analysis, and adaptation to evolving customer needs and network demands. Stay proactive and leverage the tools available in Splynx to deliver reliable services, maintain customer satisfaction, and optimize network performance.