Billing, invoicing, and finances in Splynx
Business is always about profit. ISP needs to control customer payments, generate invoices, process, and pair payments, and manage finance flow.
Splynx has a powerful billing engine. It consists of 4 main parts:
Transactions
Invoices
Payments
Proforma Invoices
1. Transactions
The whole billing process inside Splynx is based on transactions. Transactions are the key point in billing, and they are always added when there is a change in the customer's flow or balance:
Each invoice period Splynx charges customers automatically. The administrator can set up the invoice date as the 1st day of the month, and then the customer will be charged for the calendar month. Splynx has the ability to charge each customer on a different date. For example, one customer is charged on the 15th day of the month, and another customer is charged on the 20th. This action creates an "+ Debit" transaction.
When a customer pays for services, a transaction is created. He can pay via bank transfer, cash, or online payment gateway. Splynx will always pair the payment with the customer's account and create one payment transaction. A "- Credit" transaction is then created.
When an administrator adds or removes money to/from the customer's balance.
When correction is needed, it's also achieved with a transaction.
Thanks to the transaction system, there is always a clear history, as well as a way to track changes in the customer profile.
2. Invoices
Splynx provides the ability to work with or without invoices. Without issuing invoices, Splynx just receives payments and charges customers each invoice period without creating an official document. When invoicing is required, Splynx is able to generate invoices automatically, or the administrator can issue invoices manually. Invoices can be created in a bunch or separately. Invoices in PDF format are fully customizable. All documents generated by Splynx can be exported to different formats to end-users for printing or sending.
Example of the custom invoice for our customer: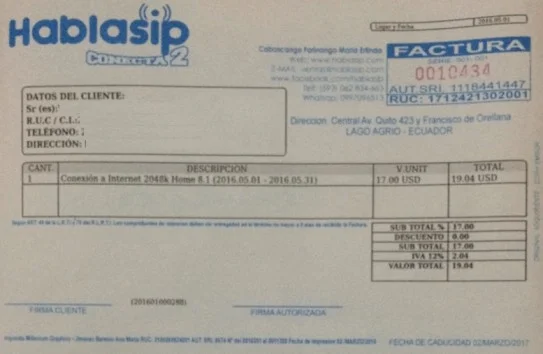 3. Payments
Splynx processes payments. When a customer pays cash in your company office, the Cash Desk module is used to enter payments into the system. The Cash Desk operator's access is limited: he can only accept, enter payments and view customers' details. The administrator can add cash payments into the system as well.
ISPs usually have different payment methods; we support bank transactions or the generation of SEPA payment orders. Bank payment transactions are automatically processed by Splynx handlers – small modules created for each bank file format.
An example of automatic bank processing is shown in the picture below:
SEPA payment orders are files generated by Splynx and sent to the bank, transferring money from customer accounts to the company account. We support different SEPA formats and we can support formats of any European country.
Payment gateways. We are continuously adding online payment gateways such as PayPal, etc. Customers can pay your company for services via a login portal or directly via an online payment gateway website. When Splynx receives a payment, one transaction is added.
4. Proforma invoices
These are non-tax documents created by Splynx. Sometimes companies don't issue invoices immediately but send customers a payment request or proforma invoice. When proforma invoices are created, the customer's balance hasn't been changed. The main reason for this billing approach is to prevent the payment of VAT tax for non-paying customers. If the customer pays the amount specified in the request PDF, the company can issue a tax invoice.
An example of this document is shown in the picture below:
The Splynx billing engine is fully customizable and scalable with the ability to serve thousands of transactions every month. Our customers use it in different parts of the world and we are able to set up the billing according to local requirements.
Splynx is also a very powerful RADIUS server, you can check it out here.
There are four video tutorials below, showing how each part of the billing engine works.
Transactions
Services
Invoices
Payments