Data Top-Ups and Related Information
Sell additional data to customers using the TopUp Splynx feature! CAP is limiting the access after reaching the data limit, Top-up allows to increase this limit.
How to configure monthly limit CAP is described in the article: "Internet data cap".
Once a customer reaches their monthly limit of data, Splynx blocks Internet access.

There are many ways to top up the data in Splynx software:
Top up from administrative access
As an administrator, you can top up customers' data from the admin access.
For example, in order to do it manually, it is needed to select a top-up plan, chose the number of MB, and arrange the price. For instance, 200 MB would cost 10 $. After that, the rule gets updated and reflects the added to the customer's account traffic.

It is also possible to update the data by choosing the data plan. In this particular case the administrator doesn't have to type any information, just picks the already existing plan. It also can be immediately tracked in the rule section.

The third option is to enable auto top-up to the customer account. By choosing this option our users get all the update done automatically by our Splynx feature. All the information about transactions is always visible in the billing and invoices sections.
Self top-up from portal
Self top-up allows the Splynx client to top up his traffic through the portal. Customer's data will be immediately increased and access to the Internet is restored. Our clients can also pay before the top-up will be applied. Moreover, Splynx allows managing the invoices settings. It helps our clients to get the update notifications in advance.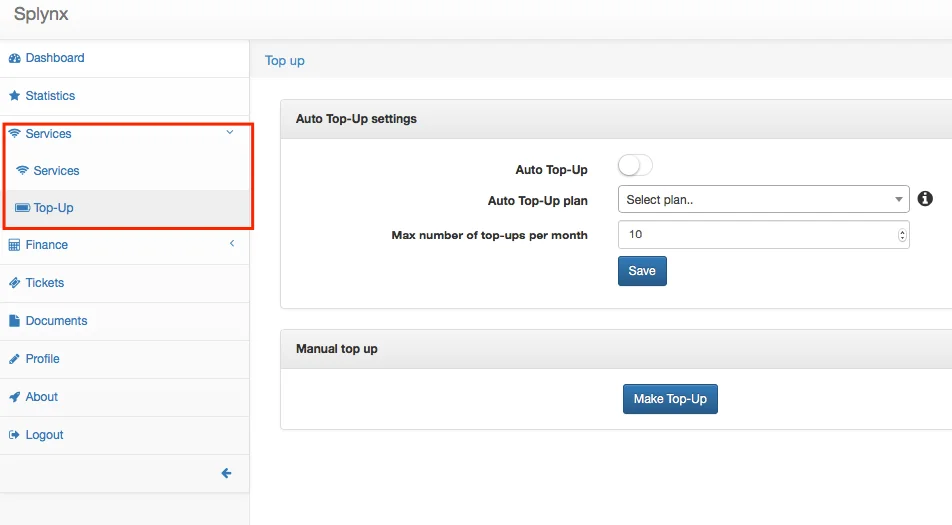 Splynx data top-up feature simplifies the work for our clients and makes the process easy and clear.