Custom prepaid billing and one-time services
Splynx team keeps on adding up features requested by our customers. Starting from v.2.3 Splynx billing engine becomes more powerful and flexible for any ISP.
It's possible to charge customers daily, monthly, or by any set period with the custom prepaid plans. Here's a situation: you need to provide Internet access only for 7 days.
The desired custom period can be set to a new or any existing service.


The customer with 'Weekly Plan' will be blocked in 7 days, in case a new payment was not done.
It is also possible to set the custom charged period for every customer from billing settings.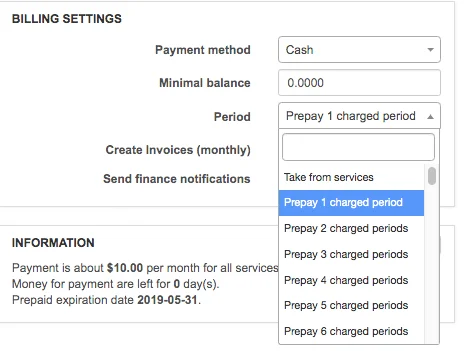 One more feature that makes life easier is One-Time services. Every provider has Installation, Maintenance, or other one-time charges needed to be added to the final invoice.

The service can be added directly from Invoices or Transaction tabs which makes it more convenient for your billing managers and administrators.
Customer → Transactions → Add Transaction → Select the needed plan.

Customer → Invoices → Add one-time invoice → Click on a flag icon to apply the one-time service.
Splynx also has a powerful recurring billing engine that is fully customizable to suit the needs of every provider.