Hotspot add-on in Splynx 4.0
With so many new features available in the new Splynx 4.0 (check out Release Notes), the Hotspot add-on deserves a special mention as it's a new feature built with an intention to support businesses from low-income communities, help them start hotspot business, grow and open up new revenue streams. 
What does this mean for your ISP?
In today's hyper-connected world, millions of people every day connect to public hotspots for their data needs wherever they go. Not surprisingly, open networks are becoming an essential part of public life — and users' internet experience. Hotspot technology makes it possible to increase internet access and help people from rural areas and low-income communities participate in the digital economy.
From the internet service provider's perspective, it's a fantastic opportunity knock to turn the Hotspot feature into a revenue-generating machine. You'll be able to:
Expand into new markets attracting small and large businesses to your services.

Extend your services to pay-as-you-go locations & regions and stay ahead of the competition.

Attract more internet resellers by offering them new revenue opportunities.
How does it work in Splynx?
In Spynx, the entire process is streamlined from start to finish. Your involvement is only needed when you install and set up the add-on. Roughly speaking, the process breaks down into three stages:
Find the addon in the "Config" → "Integrations" → "Add-ons" and install it.

Under the hood, the add-on is connected to the voucher generation system in Splynx. So once you install the addon, you need to navigate to "Tariffs plans" → "One-Time" and add plans which will be available for customers.

Configure Hotspot in MikroTik router, making sure there is no previous configuration on the router before you start.

Another prerequisite that needs to be in place is the VulaCoin add-on — a payment gateway that allows customers to pay on the go (in the future, we're planning to add more payment gateways).

That's it. The Hotspot is up and running.
We've detailed the setup steps as well as router configuration in this guide: "HotSpot add-on configuration". 
How does the customer see it?
This system works stunningly efficiently from both sides. We developed a coherent user interface from which unregistered end-users can access internet services.
For example, a user wants to answer an email at the airport while waiting for their flight, and they don't want to use their data. They can find wireless networks through their phone's settings. The steps they need to follow depend on whether a user registered or not — but here is an overview:
Select a wireless network and

sign up/sign in with the phone number and email.

Choose a tariff plan.

Instantly pay with the VulaCoin payment gateway — and

they'll be online in a flash.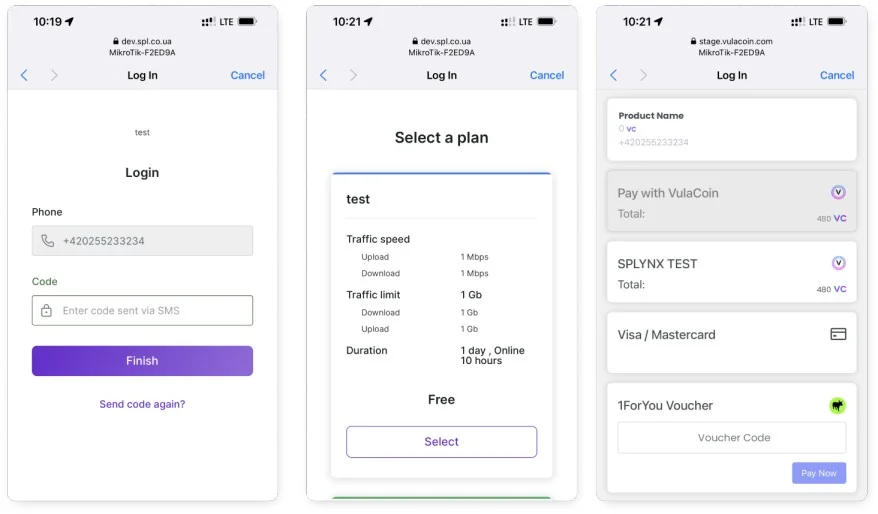 In a nutshell
Whether you're a large or small ISP, your company's underlying goal is to grow. By taking a Hotspot service offering to your work, you can extend your network range, stay ahead of the curve and, most importantly, earn more.
Check out Splynx development diary to stay abreast of our development process: