Xero accounting integration with Splynx
Splynx v.3.0 has brought many useful features for ISPs. After the integration of the Xero accounting platform, Splynx allows Internet Service Providers to streamline and automate the accounting process. Plenty of our customers already take the benefit of this feature.
We try to briefly describe the way how this module works and what billing scenarios can be used for this integration.
The process is quite simple, first of all, we connect to the accounting platform and grab all the information that is configured there, then we match it with the configuration that we have in Splynx with the values that are in Xero. We can highlight 2 steps in this configuration:
Configuration of Xero add-on and accounting API settings.

Define has the following options during the configuration: Accounting categories, Tax rates, Bank accounts.
Every provider might have a specific way of managing the accounting process, so let us review 3 types of data synchronization methods that we practice. The main difference between these scenarios is how ISPs receive their payments.
Scenario #1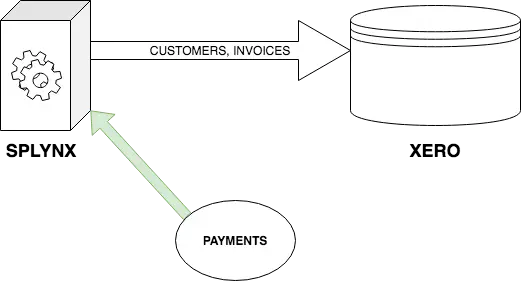 In this scenario, everything is stored and process inside Splynx, so we push all information, customers, and invoices to Xero with correct account numbers. There are providers that prefer to provide their customers with the possibility to pay online via credit cards. In this case, the payment gateway should be connected directly with Splynx and thereafter we synchronize those payments with Xero.
Scenario #2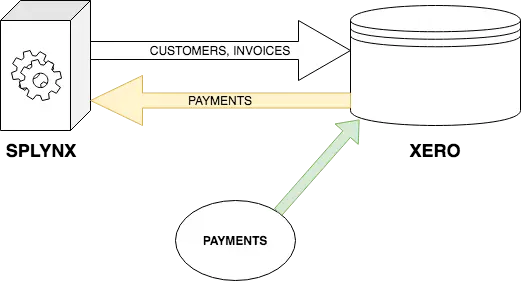 Some customers do not have any payment gateways in Splynx, and they want to process everything in Xero, they also might have a bank connection with Xero to do immediate bank reconciliations. In this way, Xero will be the so-called payment system for Splynx where we will grab all the payments and link them with customers and invoices.
Scenario #3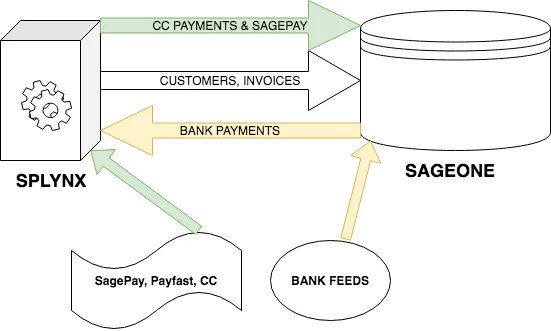 This is a very rare scenario that is not yet deployed among our Xero users, however, it is possible to reach the desired result since Xero and SageOne integration is the same. There are some customers in South Africa who have their bank account connected with Sage One, however, they also want to provide the possibility to pay the invoices from the portal by Credit Card, thus they need to connect a payment gateway to Splynx.
Check out more information about SageOne integration.
In this case, all payments go to Splynx, however, it differentiates bank payments and does not push them back to SageOne.
This integration saves lots of hours for your accountant as the synchronization process is automatic. In case you need to import / export some data immediately, there is an option to run manual synchronization that is located in Config / Integrations / Splynx Xero Accounting.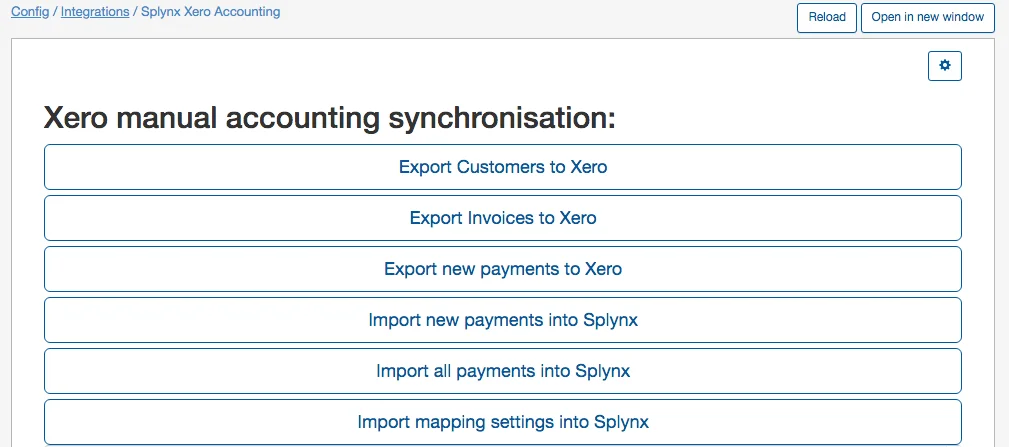 There are cases when ISPs afraid to start such integrations as they already have active customers in Splynx and Xero, there is a possibility to connect them and our engineers will fully assist you with this process.