Can small ISPs beat big Telco operators? Yes, they can!
Splynx partnered with more than 700 ISP companies from different regions – Europe, the Americas, South Africa, Africa, Australia, and New Zealand. The Internet and Voice providers face strong competition with large telco operators in many countries. And it's not easy for them to succeed in this battle. Of course, how a company with 10 or even 50 employees can compete with such big companies with thousands of people and billions of dollars such as Vodacom or AT&T. In fact, there are several keys to their success.
1. Select the area and analyze people's needs in this area
Let's call it your niche. Of course, it's impossible to compete with large operators in the middle of Barcelona where fiber is everywhere, but if you drive 50 km far, the situation with coverage is not that ideal. Spain is #1 in FTTH, but there is still space, like in small towns that are below 5000, where we can take advantage and benefit.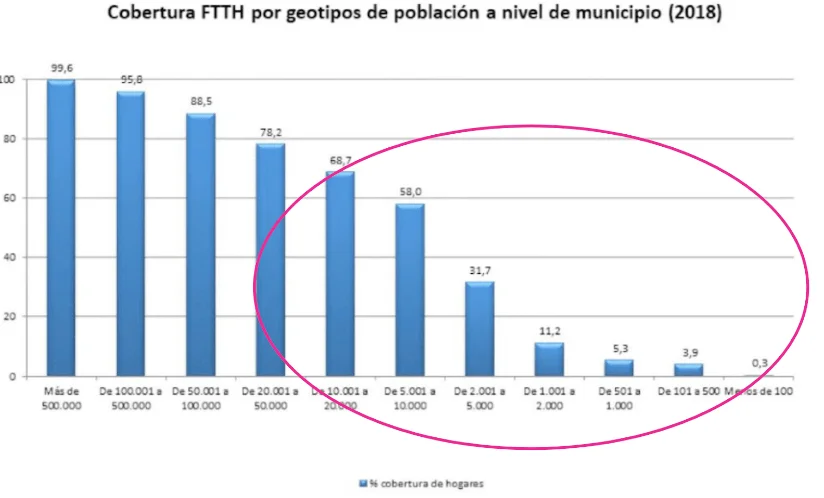 2. Reorganize inner business processes
Here is the checklist of things that you should сontiniously optimize and track. Splynx will perfectly help you to:
Define tariff plans, discounts, up/downgrade policies.
Manage sales, orders, and connections.
Set the billing correctly, use the right payment options.
Track installs and repairs, track all issues using tickets.
Set your network to do everything automatically.
Save money by saying "NO" to a bunch of tools and subscriptions like Salesforce, Freshdesk, Zendesk, FreeRadius, Radius Manager, Mikrotik User manager, UBNT, WHMCS, QuickBooks, Xero accounting, PortaOne, A2Billing, Bash scripting, etc.
Setting up processes, defining roles, choosing correct tools, and all these tedious tasks that must be done on a daily basis. With the first step, we cannot help you, because there should be involved a unique business intellect of the businessman together with good knowledge and understanding of the local environment. But this is maybe 20% of the success. 80% of your success is in building the business itself.
3. How to optimize your business
We provide the tools and help to build processes that all big ISPs already have, but you must have them as well and you must have them much better if you want to beat these millions and billion dollars monsters. And the best thing is all those processes can be efficiently managed within the Splynx platform. During the configuration and deployment process, we define several steps and processes together with our customers to optimize their business.
3.1. Get full control of sales, orders, and connections
Splynx has the ability to use Towercoverage to help you understand where your existing and potential clients are located. In combination with a self-registration add-on, you get a winning combo that really helps to increase the customer base.
In case you are not providing self-registration, you should stop losing your leads and react quickly. Our CRM allows you to manage your deals, quotas, it improves your lead tracking and communication significantly.
Our customers use the Splynx scheduling platform to optimize their teams to connect customers quickly and manage the work of their engineers.
Case study: Wireless Nation, New Zealand
This is what we did as the first step with our client Wireless Nation. This is an established company with years of experience that had all processes already on a high level. The main goal for them was a shift to an all-in-one solution to cover their business needs as their in-house software was not able to succeed with all the requirements. Wireless Nation reduced costs on software development threefold using Splynx and all processes were transferred to one platform.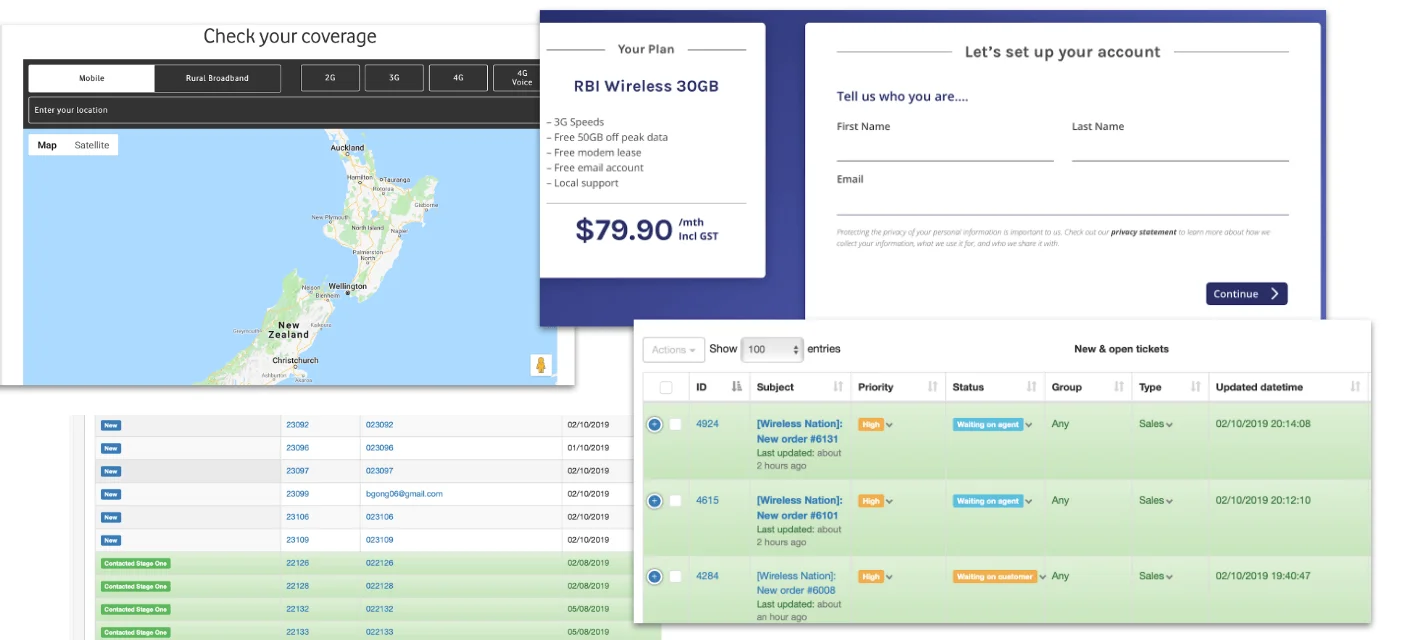 TowerCoverage to track potential customers.
Self-registration with the possibility to pay instantly and get the service in a few days.
CRM and Ticketing platform to track all registration requests and follow-up with leads.
Scheduling functionality allows tracking and managing all installation projects efficiently.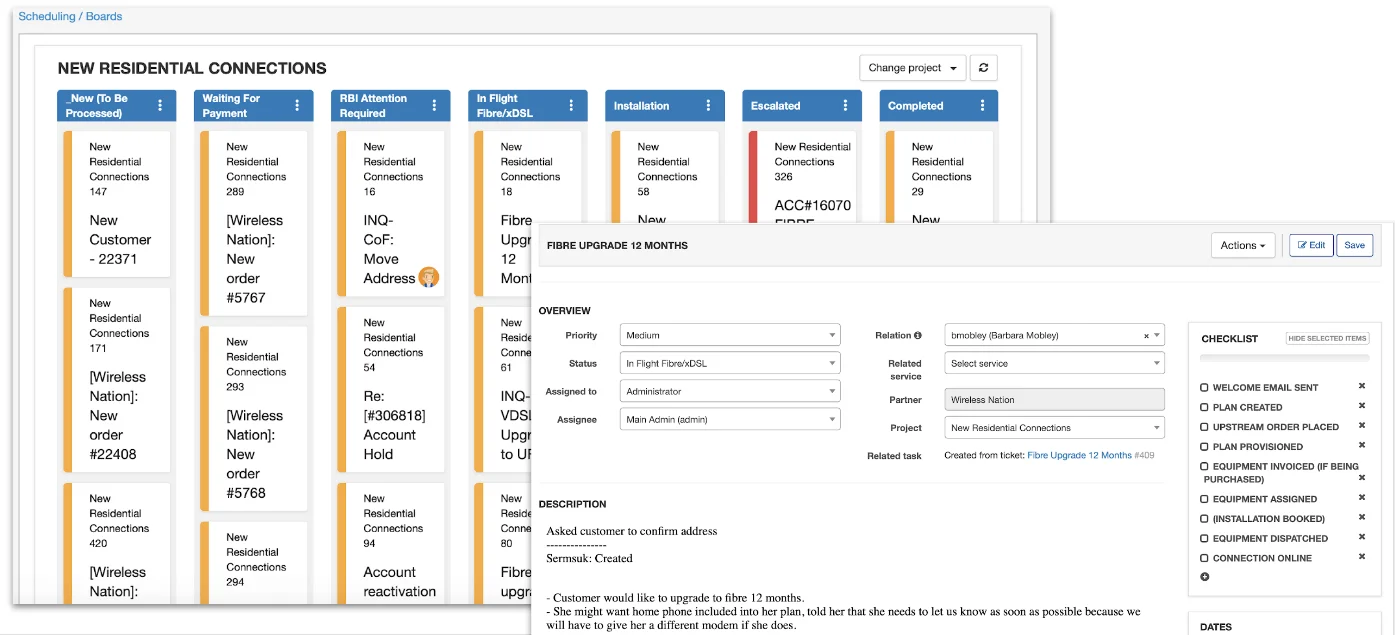 3.2. Set billing, payments, and accounting
Splynx billing engine gives a possibility to set recurring or prepaid billing periods.
ISPs can charge for Internet, VoIP, One-time services or any custom-created service.
Every business is about money and its collection. You are able to get payments via different channels in one place.
Splynx provides the possibility to export your billing data to accounting platforms and has direct integrations with SageOne, Xero, and Holded accounting platforms.
Case study: Fitel Network, Spain
Slynx has helped Fitel to grow 2 times in one year. One of their requirements was to separate recurring customers from prepaid as they are located on the coast of Spain and a lot of customers use their services seasonally.
"We had a need to separate recurring customers and prepaid. In our region, there are many clients who come for vacation and they need a fully prepaid scenario. Also, the ability to self-start and stop service was very important. Crucial for us is to process direct debit and then export all data to an accounting platform. We are using Holded.com cloud accounting software," Paul Gerhardt, CTO of Fitel Network, said.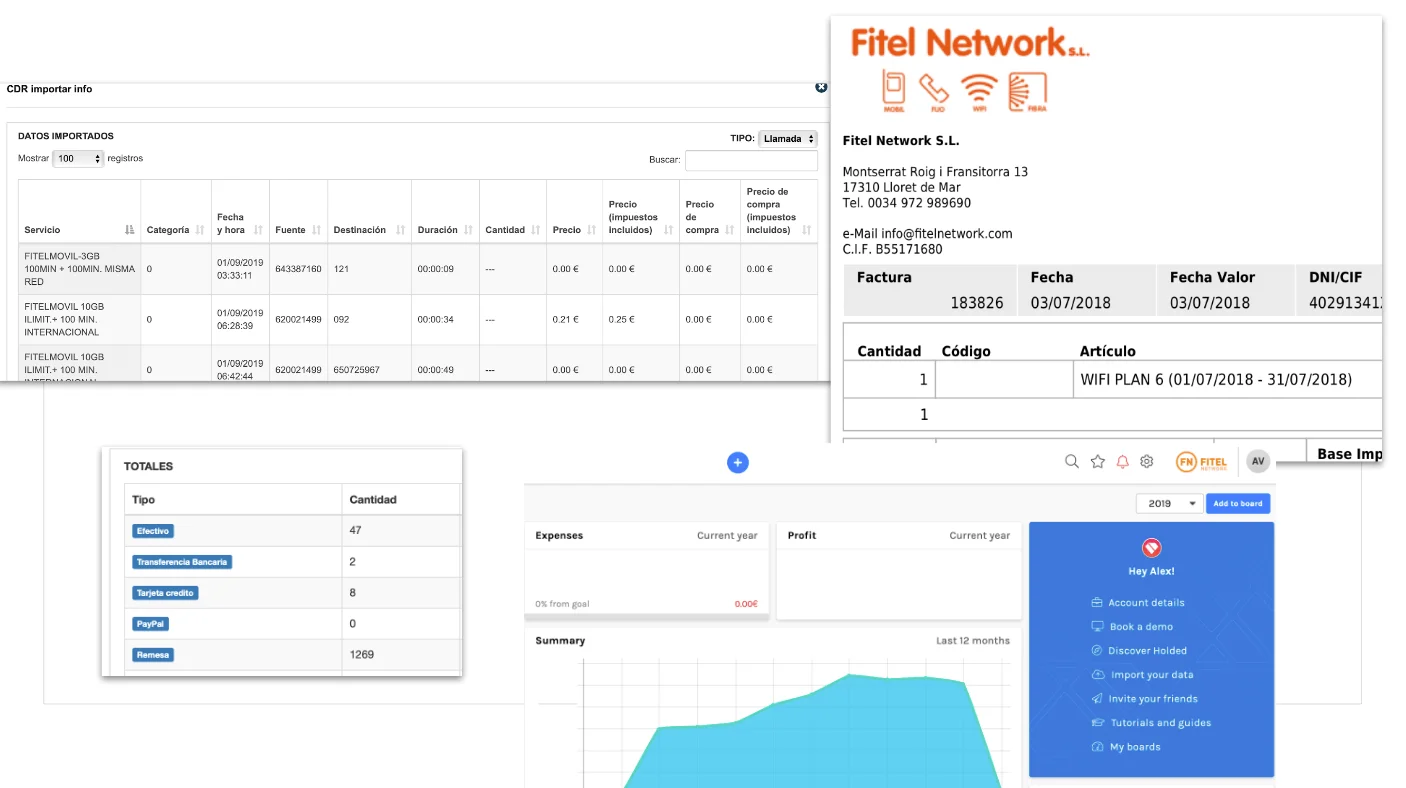 Voice and Internet services are at one place and charged simultaneously.
Invoice PDFs were customized per the customer's requirements.
Every month all the invoices are automatically exported to Holded accounting platform.
3.3. Automate your network
We provide our own RADIUS server whose functions and stability are proved by hundreds of ISP networks.
Splynx helps you to:
Authenticaticate your  subscribers, blocking non-paying customers
Control bandwidth of users with limits, FUP, and contentions
Understand what happens in the network with weather maps
Get central device backups
Provision third-party systems quickly
We have a team of network experienced developers who work directly with MikroTik, Junipers, Cisco, LTE integrations, etc. That allows our clients to make successful integrations with various custom solutions that are essential for their business.
Case study: Skywire, South Africa
South African company Skywire uses our software to optimize its network. They have hundreds of towers, so the company uses weather maps to display backbone links, fiber links, their usage, and how well they work. Also, they have IP address management and monitoring tools that are all in one place.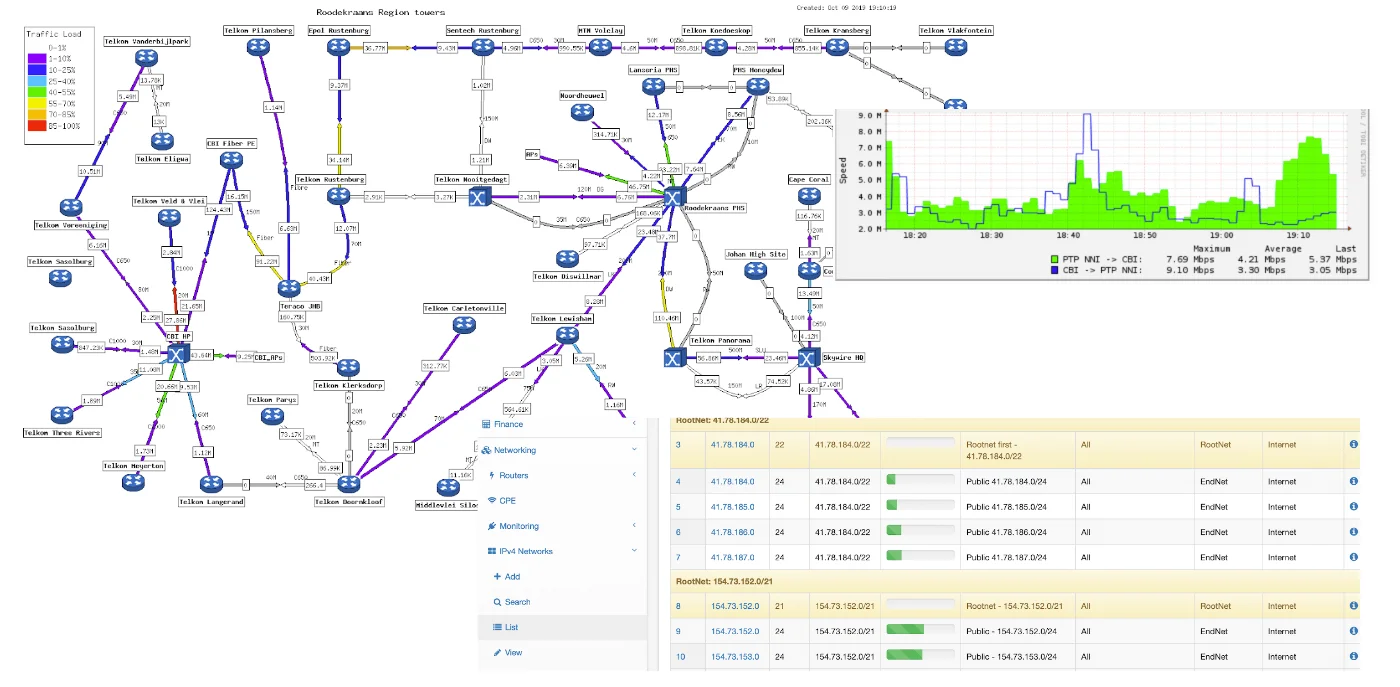 3.4. Provide awesome support
Once all the above steps are completed and continuously improved, you also have to provide good support as in most cases customers prefer the services with a better support experience. In our company, we spend a lot of time analyzing the support tickets and processes to find the right answers and solutions to deliver a great customer experience.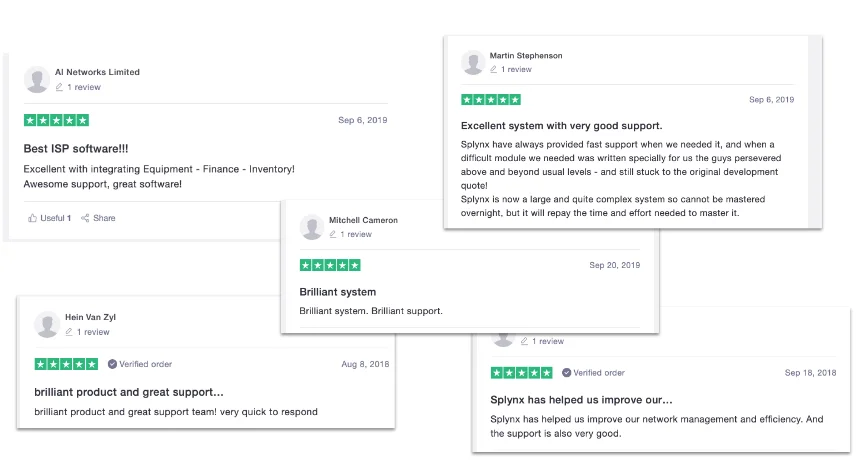 It is all done within Splynx platform, you do not need to use ZenDesk or Freshdesk, or any other 3d party solution. We have integrated all the features that most helpdesk companies offer you:
Your email connection
Incoming mail configuration and parsing
Assignments of tickets per agent, teams
Tasks creation inside the tickets
All data is connected with your customer base, so you can manage everything quickly and efficiently