Project Isizwe is a non-profit organization that partners with Internet Service Providers to provide equitable internet access for impoverished African communities. Enabled by blockchain technology, Project Isizwe provides transparent and traceable transactions, to ensure credibility between contributing donors and beneficiaries who are connected to fast, reliable, and quality internet for free.
Challenges that the company faced setting up hotspots in South Africa
1. Appetite, education, and awareness.
Everyone wants free and affordable internet. Coming from underserved communities, all of their beneficiaries don't always know and understand what public WiFi is and how it works. Although there is a hunger for free and affordable WiFi in their communities, they spend a lot of time working with their hosts and users to support them in their accessibility journey. Knowing how WiFi works, how big/small coverage areas are, and how it's different from expensive mobile data – these are some of the areas of training and education that they cover to overcome the specific challenges where there is knowledge and skill scarcity relative to WiFi prevalence.
2. Reliable power and electricity.
Many sites and areas in South Africa are affected by a poor and unreliable power supply. There are many outages related to load-shedding, cable theft, vandalism, illegal power, non-payment for power supply, etc. Outages and unreliable power remain challenges that they are faced with daily. Where and when funding allows, they do install solar and backup power solutions.
3. Free vs paid for Wi-Fi
Everyone loves and wants free WiFi however free WiFi is hard to sustain. In some cases, they have dedicated and passionate funders who are committed to providing beneficiaries with free access, and they enable them to do this. Sometimes this is uncapped, but often there is a daily MB limit. Paid-for WiFi offers the potential of sustainability, but even at R5 a day the price point is still unaffordable for many, especially children still in school and the unemployed, people who most need uncapped online access to enable change in their lives. In every project that is implemented, they have to make a price point decision. There are cons to both which is a big challenge in the work they do.
4. Sustained affordability for users and economically feasible for their business model.
When deploying R5 (0.3 USD)a day uncapped WiFi, the breakeven point is hard to achieve. Their challenge is to sell WiFi at a rate that is sustainably affordable for their users. R5 doesn't seem like a lot of money, but when you live in poverty, having R5 available each day for internet access may mean your family will have less food to eat. While Project Isizwe wants to keep WiFi affordable for users, they also need to keep building a sustainable business model so that they can advance the business. If hotspots can't show economic feasibility and bring in the revenue to cover the service costs, they can't sustain their operations. Thus settling up hotspots poses the challenge of getting these sustainability elements to meet.
5. Reliable database with central management and seamless customer onboarding.
Having a couple of thousand hotspot users and a wide range of resellers needs a reliable solution to manage everything without being complicated. Being a small team requires having as few manual processes as possible. Also, people in impoverished communities don't always know and understand what public WiFi is and how it works. So an uncomplicated and automated new customer onboarding process is a must-have.
Environment Before Splynx
Before implementing Splynx, Project Isizwe was using a solution from Facebook's parent company called the Express Wi-Fi project. This initiative was launched in 2016 to provide affordable or free Wi-Fi in different parts of the world. In 2020, Facebook pulled the plug on Express Wi-Fi in South Africa as a way around high internet connectivity costs.
Unfortunately, the project is due to wind down fully later this year as Meta now reflects its focus on "metaverse" initiatives. These require super-fast access and are, to date, squarely focused on 1st world countries rather than developing nations.
Project Isizwe started to examine alternative solutions to maintain its initiative and goals. The key aspects that drove the decision to choose Splynx, are our commitment to custom-building the functionality that they required and the affordable pricing model.
Switching to a different platform required some effort and changes to business processes. As a team of 9 people operating the company, they looked for a transition with minor modifications to their workflow. They have used the opportunity to review and improve some of their processes, including how to streamline the onboarding of new customers.
The Splynx Solution
After reviewing all the requirements defined by Project Isizwe, the Splynx team decided to completely redesign the existing Hotspot functionality. Having been close to 10 years in business, Project Isizwe shared their experience and best practices that helped us develop a completely new module that was able to meet both Project Isizwe's needs as well as market requirements to run a successful hotspot business.
Technical information
Hardware & equipment. Project Isizwe is using MikroTik routers and Cambium access points. At the moment, they are using wireless technologies only, however, intend to move this to fibre as well.
How does Project Isizwe's workflow look in Splynx now?
1. Creation of new services and work with existing services.
As far as routers being connected and configured they can easily create or manage any desired hotspot bundle. Besides service price or internet speed, easy customization allows setting desired limitations like validity, online time, traffic limit, or usage limit directly in the corresponding tariff plan settings.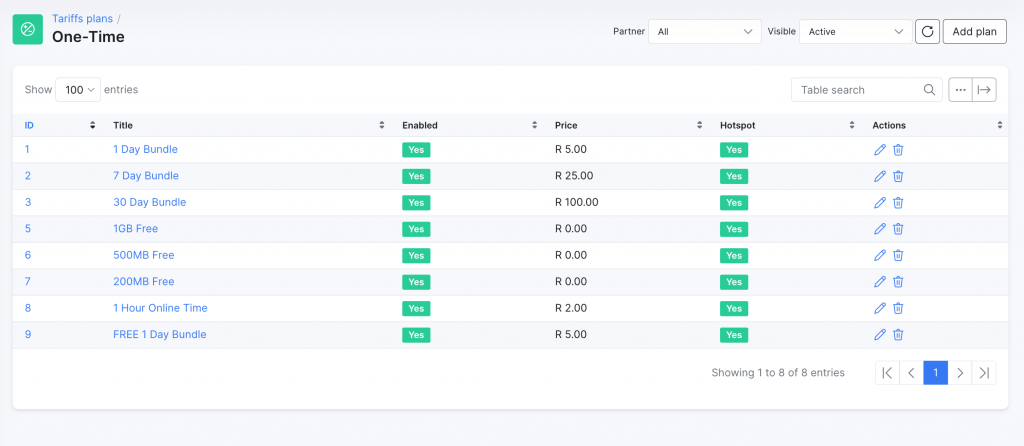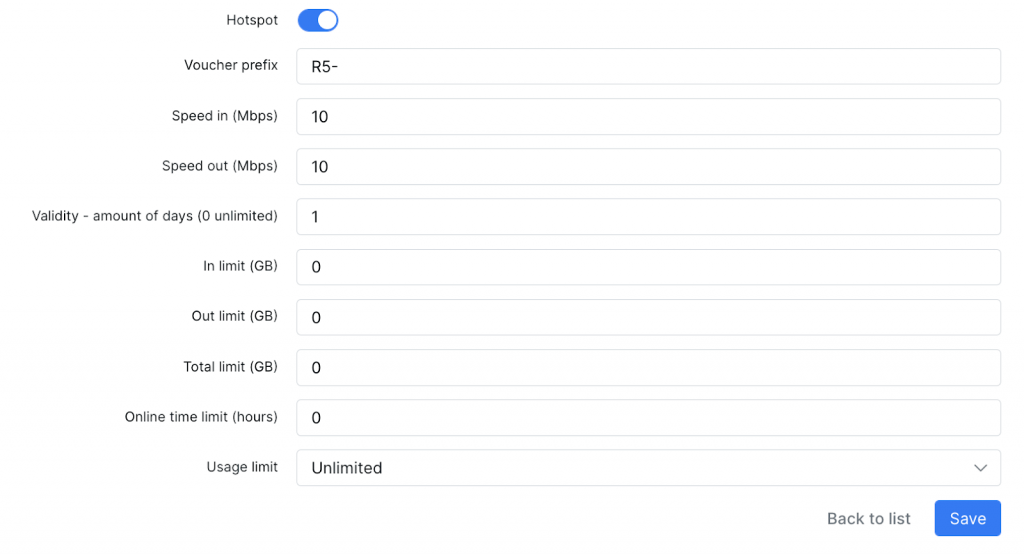 As soon as the customer applies for the desired plan Splynx automatically generates a new voucher for a new or existing customer in the database.
2. Management of online users
A) Online hotspot users are displayed in a separate section from regular customers.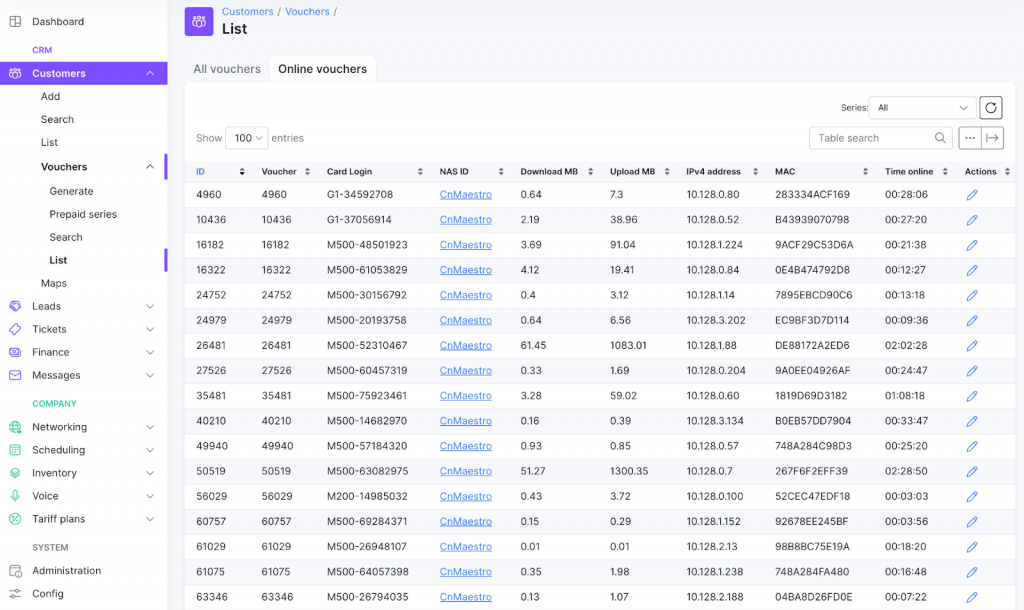 B) They can easily click on any voucher to check the statistics of usage as well as manage customer information.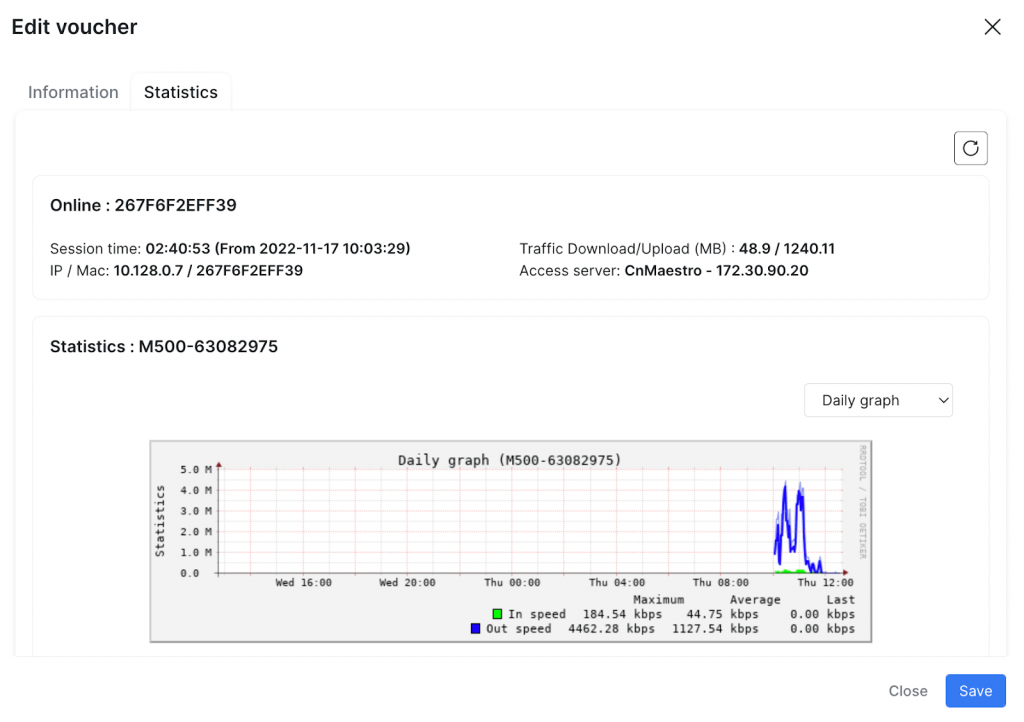 C) We've added an additional section in customer services that displays all related vouchers.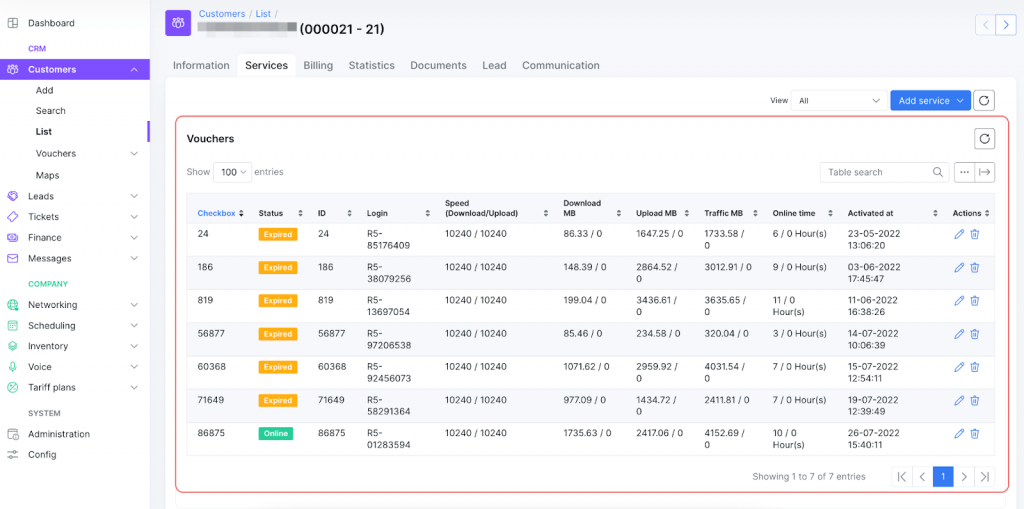 3. Customer workflow
Step 1: Customer signs in/registers with a phone number via branded page
Step 2: OTP verification
Step 3: The customer selects the desired plan
Step 4: The customer makes payment and enjoys the Internet
Video demonstration of hotspot workflow
Payment processing
Most of the users remain predominantly in cash-based economies and purchase their services using cash. The credit mechanism on VulaCoin enables users to top-up their balance with cash, and Resellers pay upfront using the other payment methods.
Splynx integrates with VulaCoin enabling payments via VulaCoin credit, Visa/Mastercard bank cards, 1ForYou Vouchers, and directly via a user's bank account.
Project Isizwe's transition to Splynx as our radius server has been both the right business decision and a positive experience. Working alongside and in collaboration with the Splynx team to develop a customized technical solution that meets our users' needs while enhancing our service and product offering has enabled a sound working relationship between Project Isizwe and Splynx. The personalized service and the ongoing support and engagement that we receive to improve how we serve our customers gives us the confidence in a long-term partnership to ensure we continue towards connecting Africans to free and affordable internet.
Our partnership with Project Isizwe is a prime example of how the private and non-profit sectors can work together to address social issues and make a positive impact in society. By working together, we discovered the impact we can make on the lives of people living in low-income communities and how we can contribute to a more connected and fair society.