Release notes – Splynx v.4.2
We are ready to unveil the latest milestone – the 4.2 release, which focuses on enhancing user experience, responding to customers' feature requests, and preparing the ground for substantial future updates. With over 120 product improvements, numerous updates, and bug fixes, the 4.2 release places significant emphasis on overall product optimization. For a detailed breakdown of all the changes, take a closer look at our comprehensive changelog here.
Main Changes Overview
1. Ping and Traceroute
The update brings the ability to perform ping and traceroute from the Splynx server in the customer profile interface and other places. This is not just about diagnostics; it's about the efficiency of your team.
The Ping and Traceroute window looks like this: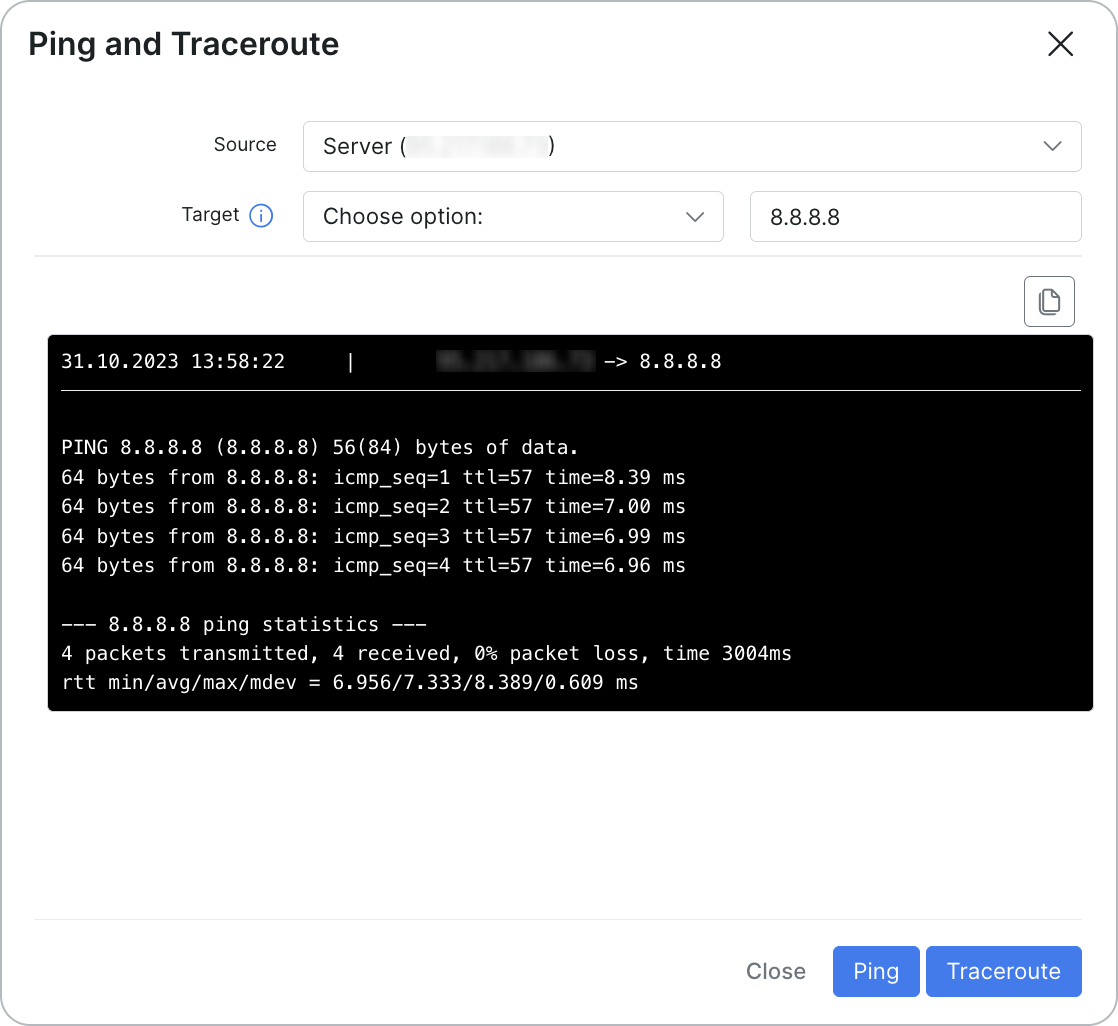 The results can be copied and pasted as an image into the ticket or inserted as a code snippet if copied as text.
This functionality was added to the following interfaces:
✔️ Routers
In the Networking section, you can perform Ping and Traceroute diagnostics on your routers. This screenshot demonstrates the process using a MikroTik router as a reference.

✔️ Internet Services
To verify the devices connected to the customer's internet services, follow these steps:
Go to the Services tab within the customer's profile.
In the Internet Services section at the top, click the Ping & Traceroute button, as indicated below:

✔️ Tickets
For a quick assessment of the customer's device response, we've seamlessly integrated Ping and Traceroute features directly into the support tickets. The button is located in the tickets 'Actions' section:

By equipping your help desk staff with this capability, you can ensure top-notch support for your valued customers.
Learn more about the Ping & Traceroute feature in our documentation article.
Added New Referral Add-On
At Splynx, we understand the crucial role word-of-mouth and referrals play in the world of ISPs. That's why we're excited to introduce the Referral Add-On in v4.2, a game-changer designed exclusively for Internet providers. This add-on was designed together with one of our largest customers, who successfully implemented the referral marketing strategy in their business, streamlining the referral process for you and your subscribers.
Bonus system customization
Every ISP is unique, and that's why we've equipped the Referral Add-On with powerful customization settings. You can craft your own referral business model perfectly. Bonuses functionality is based on one-time services allowing you to offer various options. You can choose who receives the bonus – is it just the referee, or both the referee and the new customer benefit from the referral.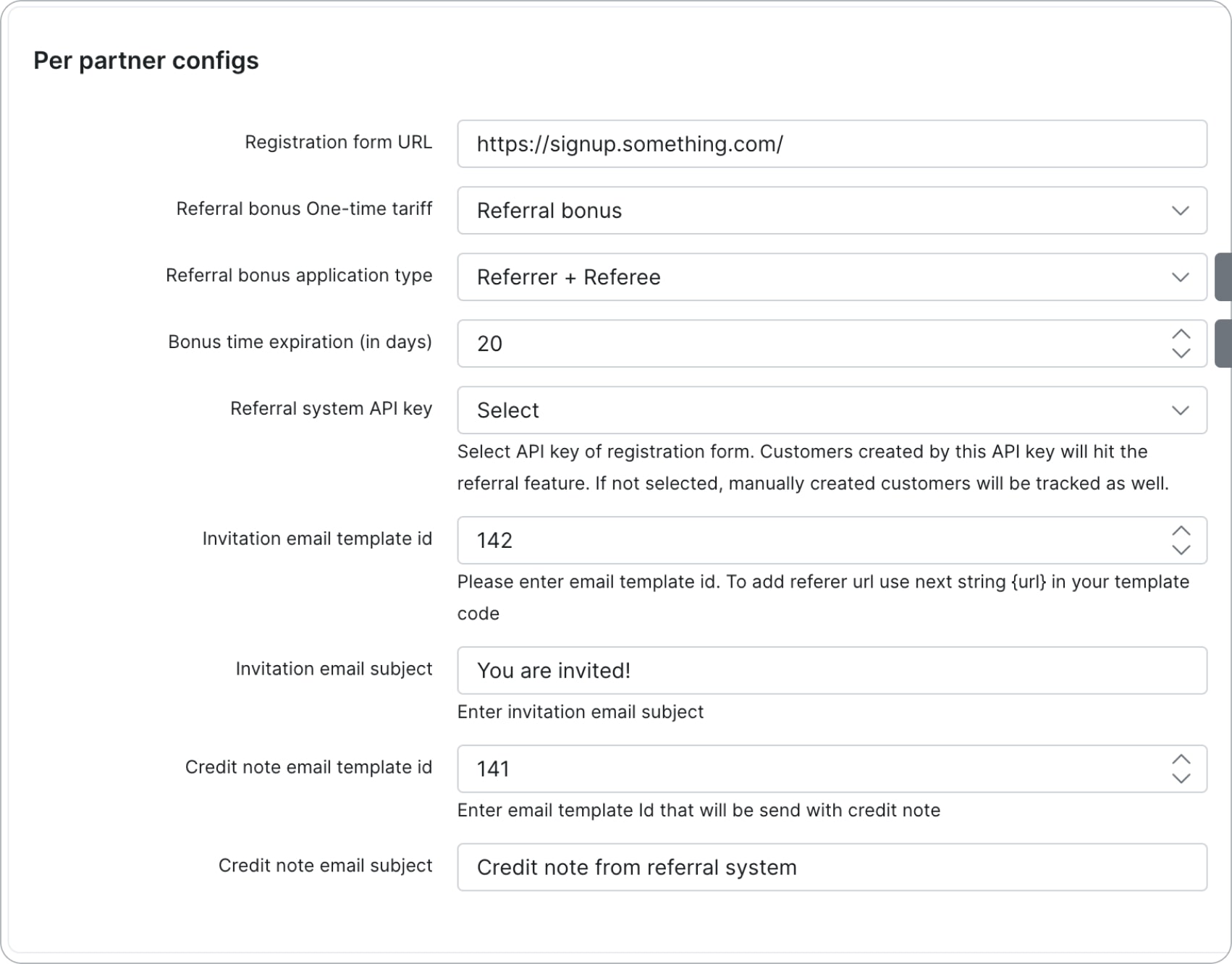 Customer Convenience
We've made it seamless for your customers to get involved. They'll find a special widget on their Client Portal dashboard, allowing them to effortlessly send a referral link to potential referees via email invite. It's all about making the process as straightforward and user-friendly as possible.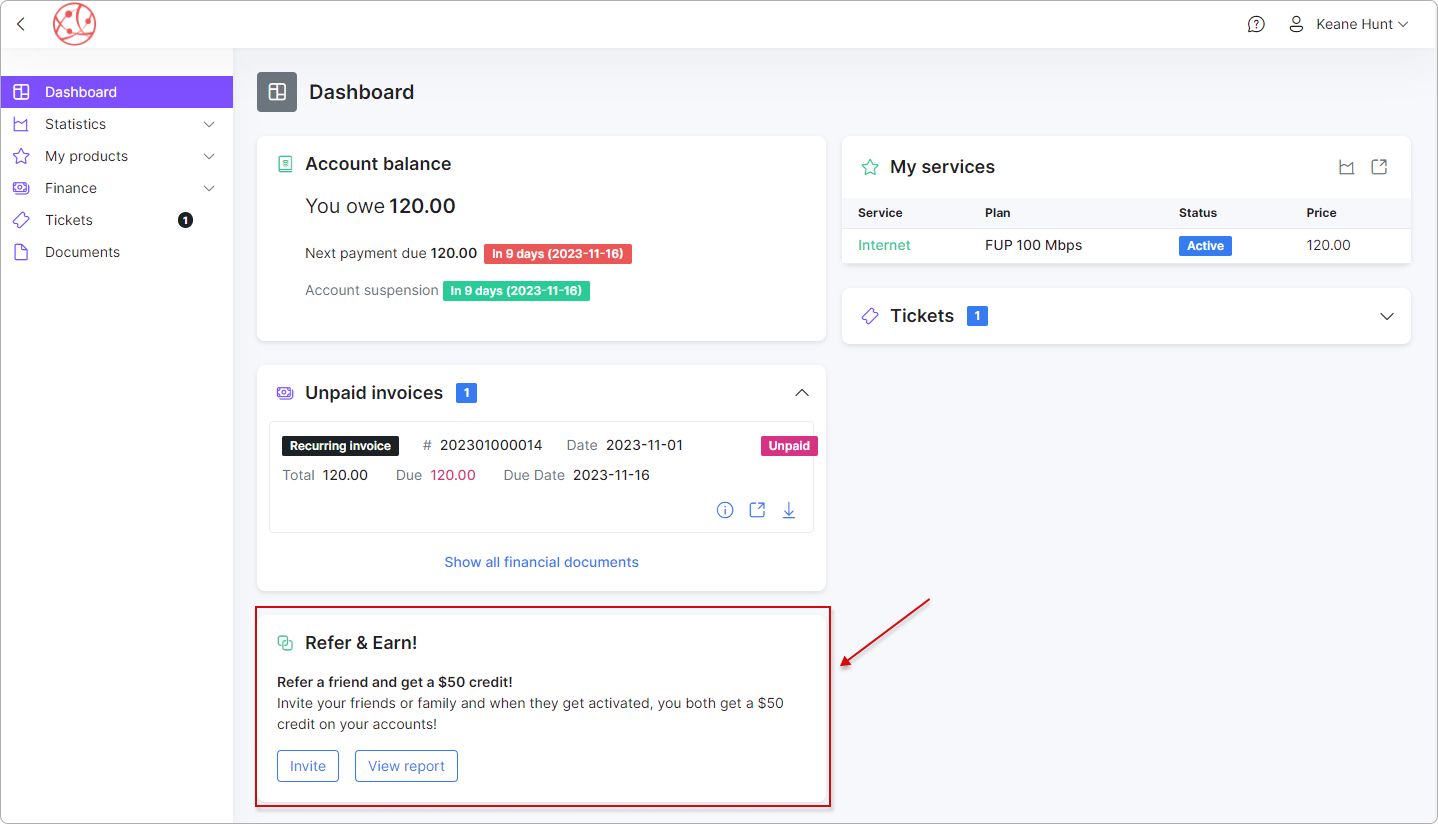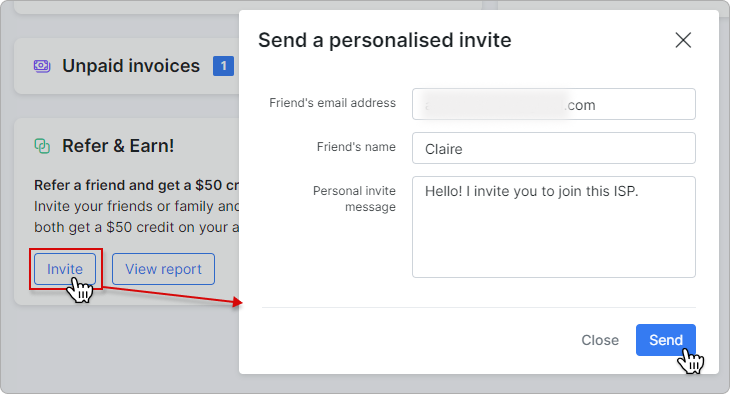 Also, there is a dedicated report available on the Customer Portal to check how many successful referrals they have and what is the total amount they earned.

The addon comes with the Referral report, which allows you to track and view all referrals within specific periods. You can easily measure the performance of your referral program, gaining valuable insights to optimize your strategy effectively.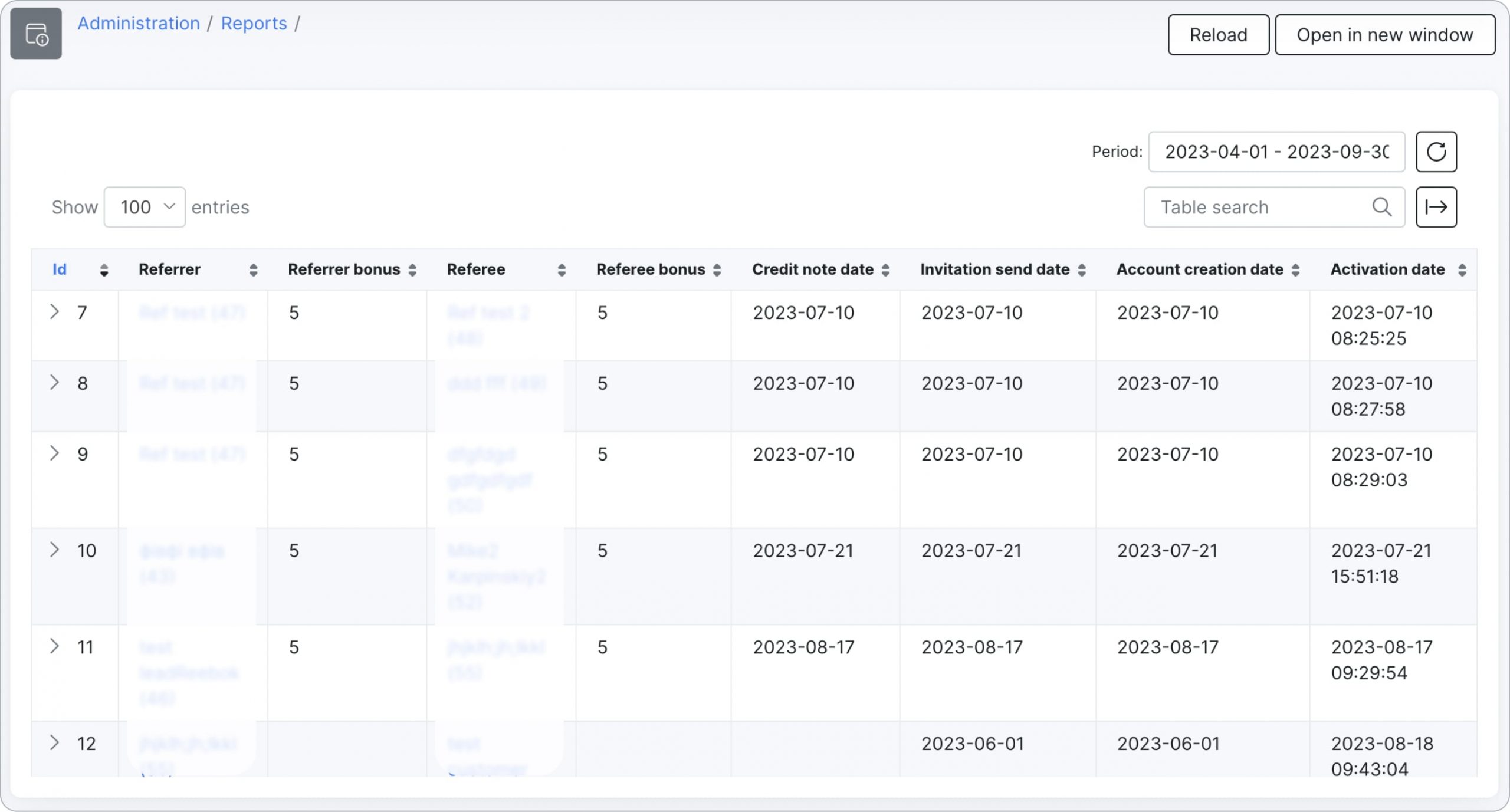 Charges for Invoices and Balances Were Split
In v4.2, we've separated the ability to charge customers based on their invoices and balances into different tabs. This enhancement simplifies the manual billing charges and offers a clear distinction between balance-related transactions and invoice-specific charges, providing greater clarity in your financial operations.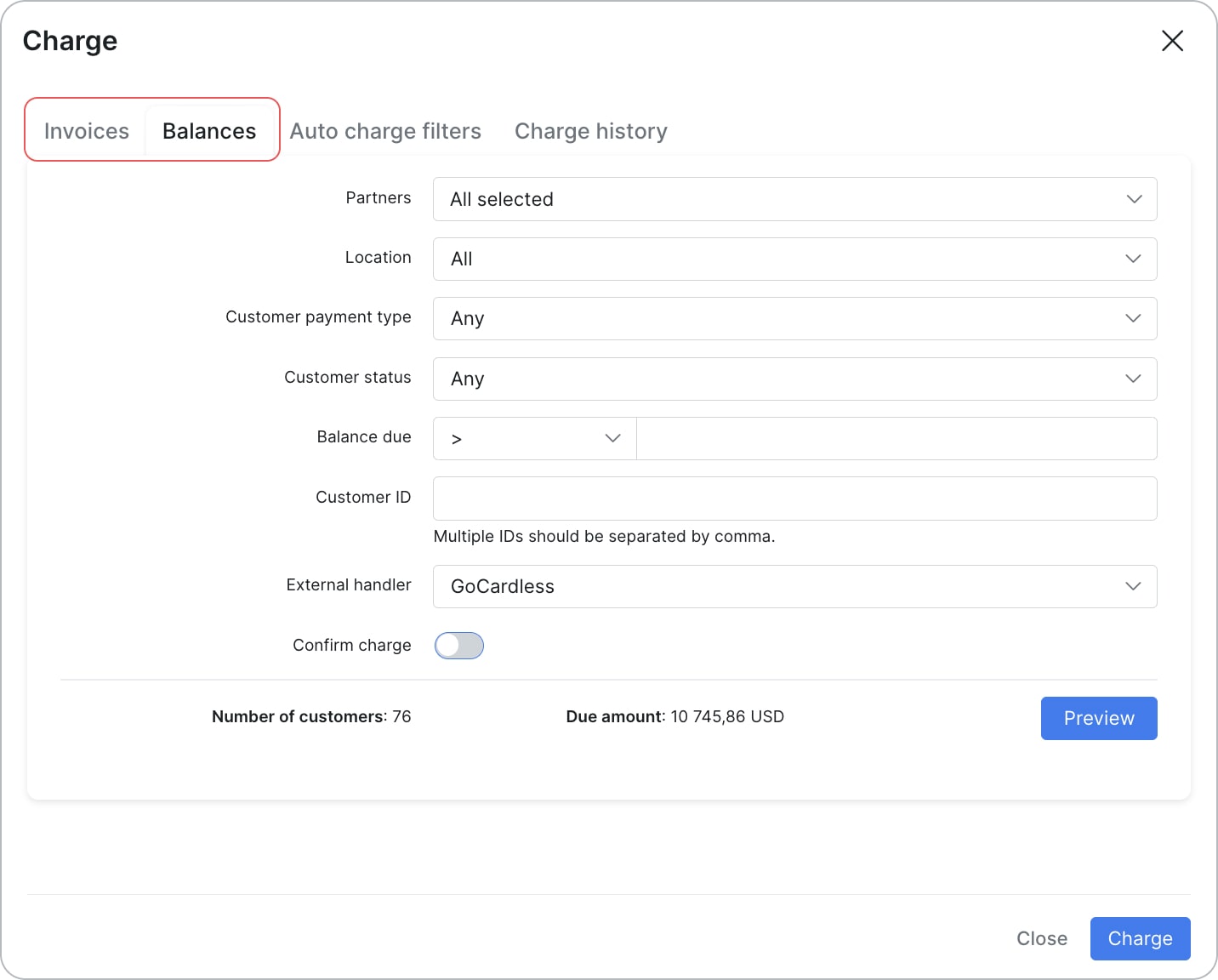 Added Possibility to Edit Charge Amounts
As a part of our commitment to improving the billing process, we've added the ability to edit payment amounts during manual charging of customer invoices and balances. This feature empowers you to fine-tune your billing process according to various conditions.

Added Two-Factor Authentication for Customer Portal
Security is paramount, and with that in mind, we've introduced Two-Factor Authentication (2FA) for the customer portal. Your customers can now enjoy an extra layer of protection when accessing their accounts, ensuring their data remains secure.
Email Templates Improvement
First impression matters, so our email templates have received several improvements. With an updated cleaner look, integration of images from the admin portal, and improved compatibility with various email clients, your communication with customers is now more professional and effective.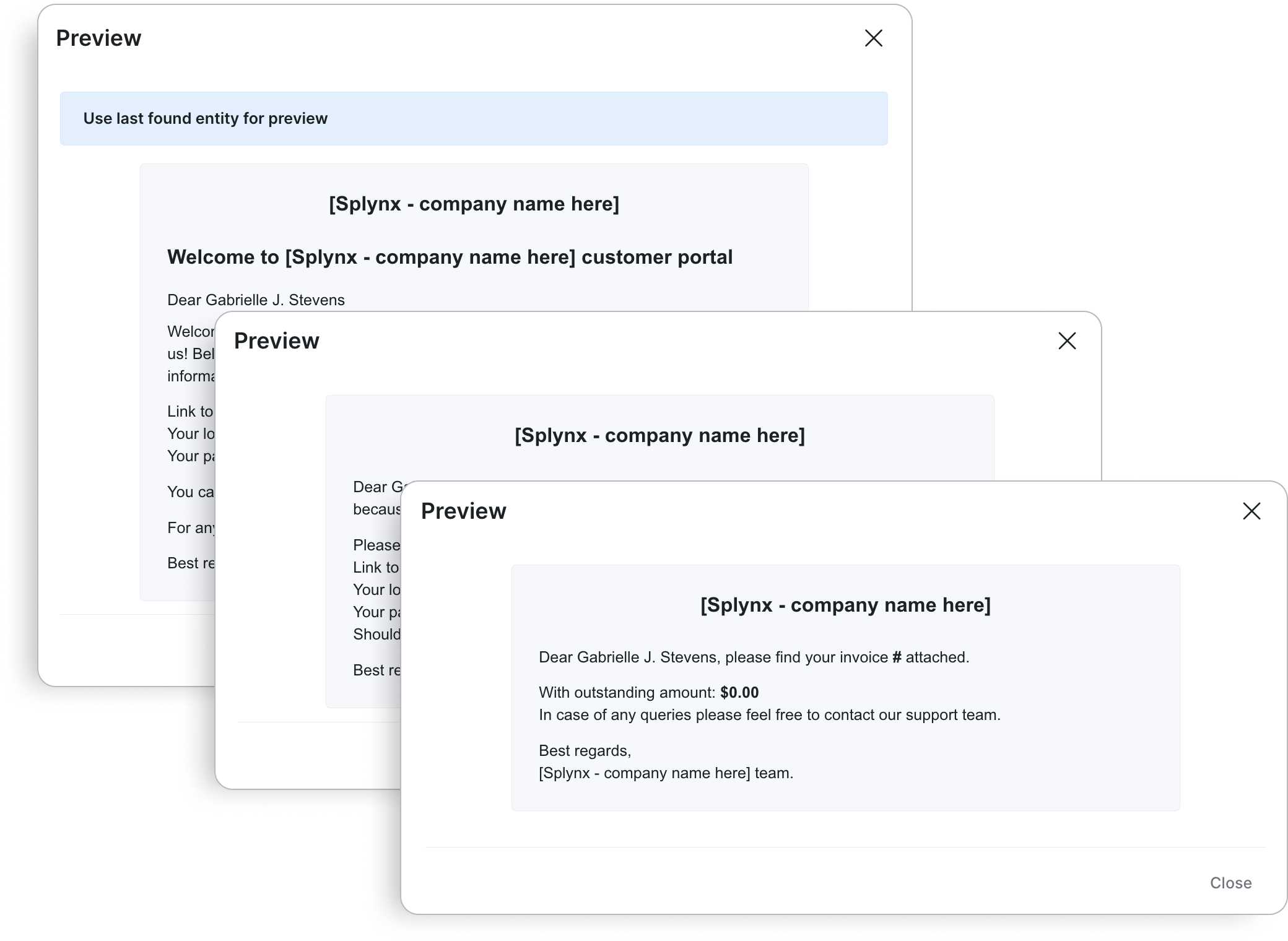 This concludes our brief overview of the changes in Splynx v4.2. However, this is just the tip of the iceberg. For a comprehensive understanding of all the updates and improvements, we invite you to explore our detailed changelog. We're looking forward to the positive impact of these changes on your Splynx experience. Thanks for being a part of the Splynx community!